Eco Friendly Porta Potty Services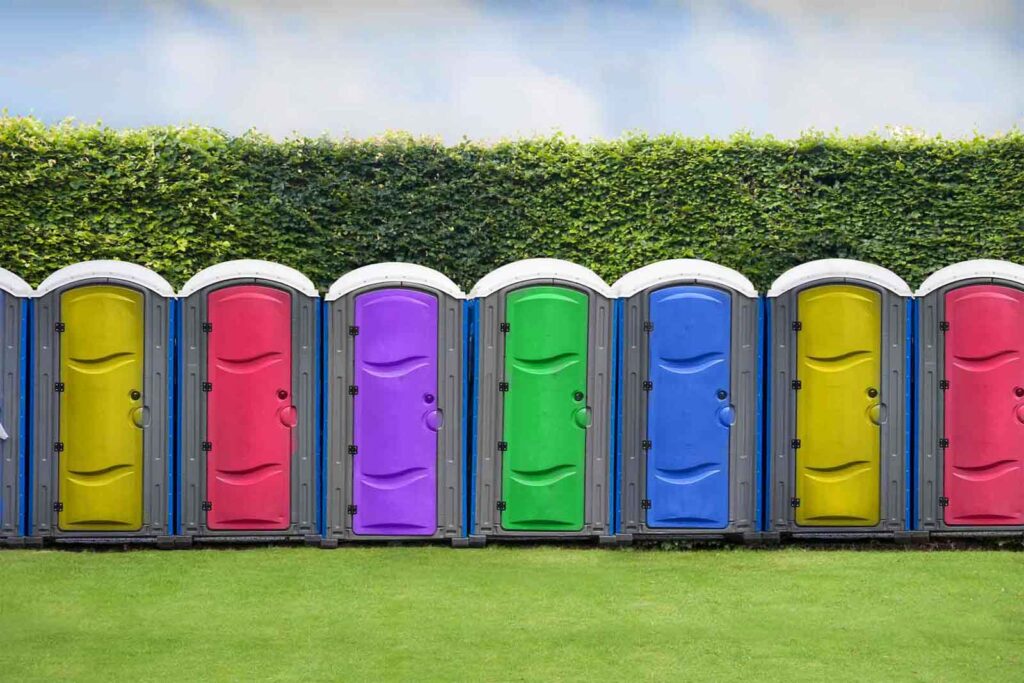 Elite Porta Potty is a professional portable toilet supplier in Charlotte, NC.
We are committed to providing you with a superior level of service and value, which we achieve by giving you a choice of different options to choose from (see Our Range below).
Our company has been helping residents and businesses of Charlotte for over 5 years.
We pride ourselves on the range and calibre of our restrooms.
Our portable toilets are suitable for a range of occasions, including but not limited to: construction sites, sporting events, concerts, weddings, public social gatherings, corporate events, parties and festivals.
Our porta johns are environmentally friendly and we use the latest sanitation techniques to deliver you a 5 star portable restroom.
Range Of Porta Pottys
Our selection of restroom rentals in Charlotte includes:
Standard Restrooms: this is our basic model which gives you the basics. It's the most economically friendly option with no frills.
Deluxe Restrooms: this is our most popular version because it's reasonably priced but it also offers you several extras, making it suitable for large events or construction sites.
Flushing Restrooms: this special option includes a hands free flush to offer an extra level of convenience for your guests.
ADA-Compliant: this is suitable for disabled/handicapped people or for parents that are helping young children to use the restroom.
Trailer Mounted Restrooms: this option is a good choice for crews that work at a construction site or for workers that are in the field.
High Rise Restrooms: if you're working on a tall building then this is the option for you. Our units can be placed near to your workers on site.
Leave A Review
https://g.page/r/CUojzjS2KgcSEAI/review
American Porta Potty Charlotte
529 Briar Creek Rd #2
Charlotte
NC 28205
Portable Toilet Service Areas in Charlotte
Charlotte Zip Codes That We Service:
28078, 28105, 28134, 28202, 28203, 28204, 28205, 28206, 28207, 28208, 28209, 28210, 28211, 28212, 28213, 28214, 28215, 28216, 28217, 28226, 28227, 28244, 28262, 28269, 28270, 28273, 28277, 28278, 28280, 28282
Local Cities That We Service
Uptown, Dilworth, Elizabeth, East Forest, North Davidson, Hickory Ridge, Montclaire South, Ballantyne East, Eastside, Myers Park, Plaza Midwood, University City, Madison Park, South End, Southpark
About Charlotte, NC
Charlotte is a major city and commercial hub in North Carolina. Its modern city center (Uptown) is home to the Levine Museum of the New South, which explores post–Civil War history in the South, and hands-on science displays at Discovery Place. Uptown is also known for the NASCAR Hall of Fame, which celebrates the sport of auto racing through interactive exhibits and films.
Things To Do In Charlotte, NC
Amusement parks in Charlotte: Charlotte's amusement parks are all within only a half-hour drive of the town's centre. There's the major Carowinds, established back in 1973. The 407-acre theme park has different themed areas and includes numerous rollercoasters and family rides, as well as its huge Carolina Harbor waterpark. Other spots in Charlotte for family fun include the Mecklenburg County-run Ray's Splash Planet and the Funtasticks Charlotte aquatic complex, which has mini-golf and go-karts. For some bouncy indoor thrills, there are several trampoline parks around Charlotte such as Sky Zone, Big Air, and Adventure Air Sports.
Ramsey Creek Park: Head to Ramsey Creek Park for a fun day out on a lakeside beach that's within a 30-minute drive north from Charlotte. This well-maintained recreational spot on the south-eastern shore of Lake Norman is a great place to swim, boat, fish, picnic, and play. When you're done with your bait and tackle at the pier or volleying at the lakeside court, you can follow nature trails to further explore the lush surroundings. Ramsey Creek Park's admission applies for cars and walk-ins, and you might need to book in advance if you wish to use the lakeside picnic shelters. Lifeguards are on duty throughout the summer. It's best to bring your own parasols since shaded areas on the beach can be limited. Also, weekdays and early mornings see lesser crowds.
Mint Museum Uptown: Mint Museum Uptown at Levine Center for the Arts in Charlotte is a top spot in town, where you can admire various international art exhibits and scheduled live performances. The museum is striking from the outside with its modern, polygonal architectural styling. Inside, there's a total of 5 floors, with exhibits displayed on 4. Mint Museum Uptown also displays works of art collectives and contemporary art installations. Sometimes they're accompanied by a film with mesmerising performance pieces. You can check out the museum's free Wednesday nights, which usually includes lectures and live art performances. Mint Museum has 2 locations, with the other being the original building on Randolph Road.
NASCAR Hall of Fame: NASCAR Hall of Fame in Charlotte is a must-visit for fans of American stock-car racing, where the thrill of the race lives on through exhibits and rides. Even those not too acquainted to the sport can easily learn about the fandom and legacy of the drivers through action-packed docufilms shown in the 278-seater High Octane Theater. The 64-ft projection screen and surround sound system help immerse you in the heat of race day. The exhibition hall displays past and present-day stock cars while younger fans will love racing on the simulators. Head to the NASCAR themed café whenever you're feeling peckish and check out the cool merch at the gift shop for that chequered flag-themed corner of your room back home.
Bank of America Stadium: The Bank of America Stadium is the home stadium of the Carolina Panthers, the American football team and pride of Charlotte. It's where you can either watch an NFL game or tour the massive sporting facility to learn more about the team. Featuring a classic American bowl design, the stadium was formerly known as Carolinas Stadium in 1994 and then as Ericsson Stadium in 1996. One thing every generation knows and loves about both the home team and stadium is Sir Purr, Carolina Panther's mascot – when you don't see him in the field during a game, you can take him home as a souvenir from the Carolina Panthers team store.
Independence Park: Independence Park offers a cool escape right in the heart of Charlotte with manicured gardens and a variety of areas for sports and recreation. As a family with kids, there are picnic tables available at one side of the park or you can easily choose a spot to lay down your picnic basket and let the little ones run freely. There's ample space for a game of catch and there are basketball and volleyball courts on 2 sides of the park. You can follow a walking trail that leads you to a vast 'reflecting' pond, with a fountain in its centre and benches on its side, as well as a flower garden and a tiny waterfall feature.
AvidXchange Music Factory: AvidXchange Music Factory is Charlotte's main live entertainment and music complex. It has numerous venues within, alongside a variety of restaurants and bars. Some of the top spots at the complex, which itself was formerly known as the NC Music Factory, include Roc's Jazz Bar, the Charlotte Metro Credit Union Amphitheatre, The Fillmore, The Underground, and The Comedy Zone. With so many different gig venues and dining options, AvidXchange Music Factory caters to different tastes in music. Feel like dancing the night away in Charlotte? There are many different clubs to choose from, too. La Revolucion is a spot for you to get down with Latin grooves and flamenco.