Eco Friendly Porta Potty Services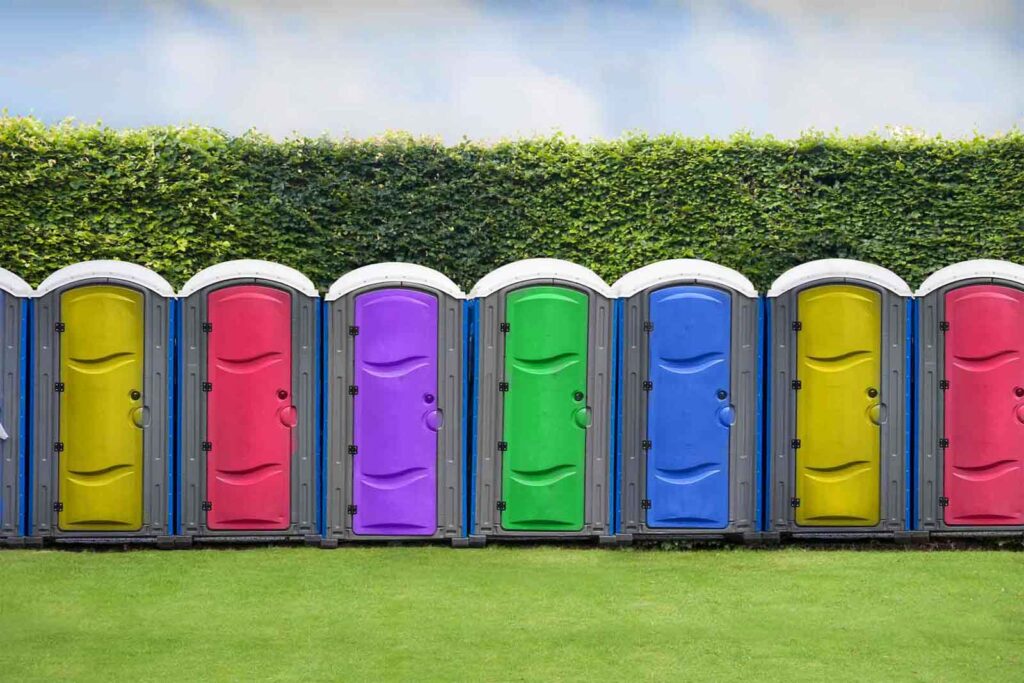 Elite Porta Potty is a professional portable toilet supplier in Sacramento, CA.
We are committed to providing you with a superior level of service and value, which we achieve by giving you a choice of different options to choose from (see Our Range below).
Our company has been helping residents and businesses of Sacramento for over 5 years.
We pride ourselves on the range and calibre of our restrooms.
Our portable toilets are suitable for a range of occasions, including but not limited to: construction sites, sporting events, concerts, weddings, public social gatherings, corporate events, parties and festivals.
Our porta johns are environmentally friendly and we use the latest sanitation techniques to deliver you a 5 star portable restroom.
Range Of Porta Pottys
Our selection of restroom rentals in Sacramento includes:
Standard Restrooms: this is our basic model which gives you the basics. It's the most economically friendly option with no frills.
Deluxe Restrooms: this is our most popular version because it's reasonably priced but it also offers you several extras, making it suitable for large events or construction sites.
Flushing Restrooms: this special option includes a hands free flush to offer an extra level of convenience for your guests.
ADA-Compliant: this is suitable for disabled/handicapped people or for parents that are helping young children to use the restroom.
Trailer Mounted Restrooms: this option is a good choice for crews that work at a construction site or for workers that are in the field.
High Rise Restrooms: if you're working on a tall building then this is the option for you. Our units can be placed near to your workers on site.
Leave A Review
https://g.page/r/CY-BgJoA2DloEBA
Divine Porta Potty Sacramento
1933 Bonavista Way
Sacramento
CA 95832
Portable Toilet Service Areas in Sacramento
Sacramento Zip Codes That We Service:
95652, 95660, 95673, 95758, 95811, 95814, 95815, 95816, 95817, 95818, 95819, 95820, 95821, 95822 95823, 95824, 95825, 95826, 95828, 95829, 95831, 95832, 95833, 95834, 95835, 95838, 95841, 95864
Local Cities That We Service
Broderick, West Sacramento, Bryte, Fruitridge Pocket, Lemon Hill, Downtown, Old Sacramento, Natomas, East Sacramento, Midtown, Cal Expo, Riverside, SCC, Land Park, Oak Park, North Natomas, Robla, Del Paso Heights, Tahoe Park, American River Parkway, South Natomas, Granite Regional Park, Campus Commons, Natomas Crossing, Tallac Village, Richmond Grove, Valley Hi / North Laguna, Mansion Flats, Elder Creek, Walsh Station, Hagginwood, Old North Sacramento, RP Sports Complex, Mangan Park, Fruitridge Manor, New Era Park, Poverty Ridge, North Oak Park, South Hagginwood, Z'berg Park, North City Farms, Noralto, Natomas Corporate Center, Southern Pacific / Richards, Alhambra Triangle, Swanston Estates, Strawberry Manor, Meadowview, Southwester Sacramento, Natomas Creek, Freeport Manor, West Tahoe Park
About Sacramento, CA
Sacramento, capital of the U.S. state of California, lies at the confluence of the Sacramento River and American River. The district of Old Sacramento harkens back to the city's Gold Rush era, with wooden sidewalks and wagon rides. One of several museums in Old Sacramento, the California State Railroad Museum depicts the construction of the Transcontinental Railroad, one of the country's earliest technological feats.
Things To Do In Sacramento, CA
State Capitol: An elegant neoclassical structure with an imposing 128-foot dome, California's State Capitol building is an 1869 architectural stunner. On a free guided tour, visit the Senate Gallery and Assembly Room and glimpse how California's government works while you admire the details of this ornately crafted building, like the California poppy designs in the Italian mosaics on the second floor, and the cast-iron grizzly bears baring their teeth on the rotunda ceiling. There's a lot to see, but don't miss the portraits of California's governors, including Arnold Schwarzenegger and Ronald Reagan, and save time to tour the grounds. Surrounding the gleaming building is Capitol Park, a grassy expanse with historic rose gardens featuring more than 140 varieties, carefully tended camellia gardens (Sacramento calls itself "the camellia capital of the world"), bronze statues honoring California's veterans, and squirrels hoping your pockets are filled with peanuts.
Old Sacramento: Step back in time—about 170 years—with a stroll along Old Sacramento's wooden sidewalks. The cobblestone streets of the city's riverfront corridor look like a set from a Hollywood western, but these buildings are the real deal, many of them dating back to the 1849 Gold Rush. Located on Front Street between the I Street bridge and Tower Bridge over the Sacramento River, Old Sac's wooden Victorians house an eclectic collection of candy stores, souvenir shops, and museums. The Sacramento History Museum displays Gold Rush artifacts and offers underground tours and ghost tours of the historic district. Sacramento's legacy as the transcontinental railroad's western headquarters is documented at the California State Railroad Museum, home to 19 lavishly restored 1860s locomotives and dozens of railroad cars, from miniature-scale versions to full-size. At the Central Pacific Railroad passenger station, climb aboard a restored passenger train for a 45-minute ride along the river (April to September).
Canon: Get a taste of East Sacramento's foodie panache at Canon, an oasis of creative shared plates, craft cocktails, and bold global flavors. Everything is elevated here, from the dining room's soaring ceiling to the cutting-edge menu. Remember tater tots? Order them here, where chef Brad Cecchi employs 60-plus ingredients to create his mole-topped version. Many dishes are rooted in Mexican cuisine, but you'll also find Southeast Asian and North African influences. Locally grown vegetables—marinated sweet peppers, roasted baby carrots, blistered pole beans—share the dinner limelight with king salmon and chicken drumsticks. The brunch menu delineates between sweet and salty dishes, with Bánh mi Crêpes, and Chicken & Potato Flautas starring on the salty side; Ricotta Pancakes on the sweet. Whatever you order, add on a sweet potato cinnamon roll (and remember, you're supposed to share).
Ruhstaller Tap Room: The Sacramento metropolitan area boasts more than 30 brew pubs, taprooms, and craft breweries, but in this beer-saturated city, Ruhstaller adds a sophisticated twist. To sample some of its 18 brews, you ring a doorbell and descend the stairs to a softly lit speakeasy, where a quirky-chic vibe is highlighted by recycled wood paneling, cozy couches, and brick walls lined with historic photos. Knock around the eight ball with your friends (the pool table is free), snack on peanuts, and sample Ruhstaller's 1881 red ale, made with hops grown only 15 miles away at the brewery's Dixon farm. The tap room bears the name of Gold Rush pioneer Captain Frank Ruhstaller, who helped to found the Sacramento-based Buffalo Brewery Co., a late 1800s brewery that was the largest west of the Mississippi.
The Sawyer by Kimpton: Swanky, modern, and lofty, The Sawyer is Sacramento's newest urban-elegant hotel, situated downtown next to the Golden1 Center and a few steps away from the Capitol Mall and K Street's Downtown Commons (DOCO). Check in here if you're headed to a Sacramento Kings game, but even if you're staying overnight on a business trip, take time to swim in the rooftop pool, savor a lamb burger or rib-eye steak at Echo & Rig Steakhouse, bowl a few lanes or throw some darts at Punch Bowl Social, or dance to the DJ's beats at Revival rooftop lounge. As with all Kimpton hotels, The Sawyer doles out a bounty of guest-centric amenities, like free loaner bikes, in-room spa services, pet-friendly rooms, and an evening wine hour in the lobby. For the best city view, book a room on an upper floor overlooking the Sacramento River and Old Sac's historic buildings.