Eco Friendly Porta Potty Services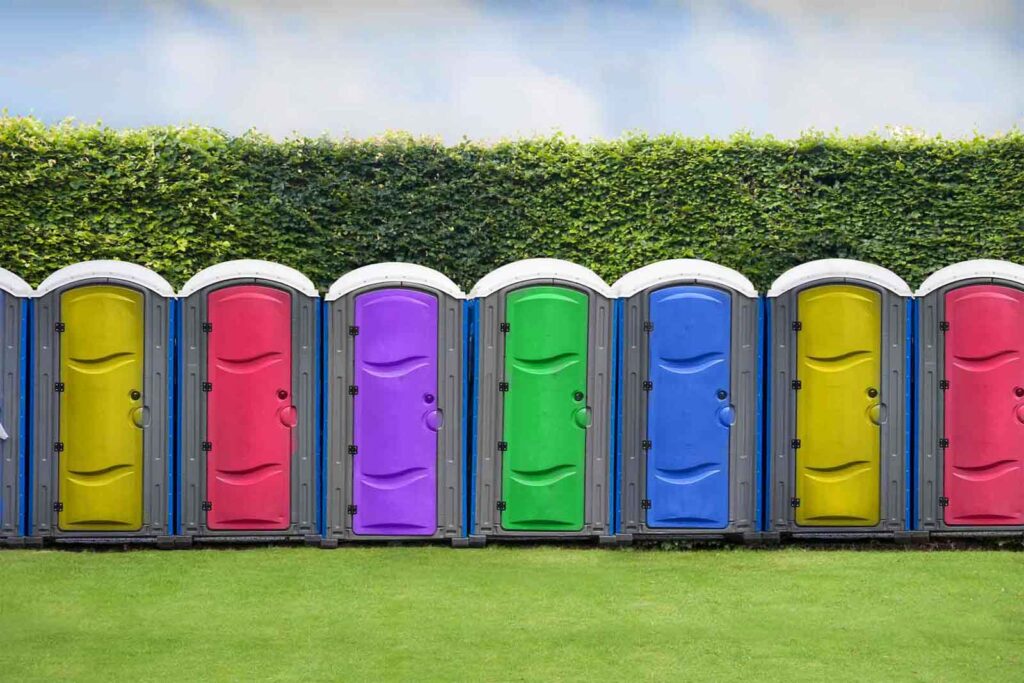 Elite Porta Potty is a professional portable toilet supplier in Chicago, IL.
We are committed to providing you with a superior level of service and value, which we achieve by giving you a choice of different options to choose from (see Our Range below).
Our company has been helping residents and businesses of Chicago for over 5 years.
We pride ourselves on the range and calibre of our restrooms.
Our portable toilets are suitable for a range of occasions, including but not limited to: construction sites, sporting events, concerts, weddings, public social gatherings, corporate events, parties and festivals.
Our porta johns are environmentally friendly and we use the latest sanitation techniques to deliver you a 5 star portable restroom.
Range Of Porta Pottys
Our selection of restroom rentals in Chicago includes:
Standard Restrooms: this is our basic model which gives you the basics. It's the most economically friendly option with no frills.
Deluxe Restrooms: this is our most popular version because it's reasonably priced but it also offers you several extras, making it suitable for large events or construction sites.
Flushing Restrooms: this special option includes a hands free flush to offer an extra level of convenience for your guests.
ADA-Compliant: this is suitable for disabled/handicapped people or for parents that are helping young children to use the restroom.
Trailer Mounted Restrooms: this option is a good choice for crews that work at a construction site or for workers that are in the field.
High Rise Restrooms: if you're working on a tall building then this is the option for you. Our units can be placed near to your workers on site.
Leave A Review
https://g.page/r/CegvpX7pxRonEBA
Premier Porta Potty Chicago
7028 South King Drive #1
Chicago
IL 60637
Portable Toilet Service Areas in Chicago
Chicago Zip Codes That We Service:
60007, 60018, 60068, 60106, 60131, 60176, 60601, 60602, 60603, 60604, 60605, 60606, 60607, 60608, 60609, 60610, 60611, 60612, 60613, 60614, 60615, 60616, 60617, 60618, 60619, 60620, 60621, 60622, 60623, 60624, 60625, 60626, 60628, 60629, 60630, 60631, 60632, 60633, 60634, 60636, 60637, 60638, 60639, 60640, 60641, 60642, 60643, 60644, 60645, 60646, 60647, 60649, 60651, 60652, 60653, 60654, 60655, 60656, 60657, 60659, 60660, 60661, 60706, 60707, 60714, 60804, 60827
Local Cities That We Service
Rogers Park, Edgewater, Lincoln Square, Uptown, North Center, Roscoe Village, Lakeview, Lincoln Park, Old Town, Gold Coast, River North, Streeterville, Forest Glen / Jefferson Park, Albany Park, Portage Park, Irving Park, Avondale, Logan Square, Bucktown & Wicker Park, Humboldt Park, West Town, West Loop, Little Italy / University Village, Pilsen, Bridgeport & Armour Square, Bronzeville, South Loop, Hyde Park & Kenwood, South Shore, Beverly
About Chicago, IL
Chicago, on Lake Michigan in Illinois, is among the largest cities in the U.S. Famed for its bold architecture, it has a skyline punctuated by skyscrapers such as the iconic John Hancock Center, 1,451-ft. Willis Tower (formerly the Sears Tower) and the neo-Gothic Tribune Tower. The city is also renowned for its museums, including the Art Institute of Chicago with its noted Impressionist and Post-Impressionist works.
Things To Do In Chicago, IL
Millennium Park: Enter Chicago's great "front lawn" – Millennium Park. The public space is where you can find some of the city's most iconic scenery. Stroll through the blooming perennial Lurie Gardens, which are enclosed by a 15-foot-high hedge. Admire art installations along the tree-lined Chase Promenade, with different exhibitions held throughout the year. A must-see is Cloud Gate, fondly nicknamed "The Bean" for its shape. This giant sculpture features a smoothly polished mirror-like stainless steel surface, reflecting the skyscraper scene around it.
Navy Pier: The Navy Pier is a great spot for families to head to on Chicago's Michigan lakefront. The pier juts out for over 3,000 ft into the lake and is filled with green spaces, shops, exhibitions, and restaurants. One of the pier's main features that also dominates its skyline is the Centennial Wheel. This Ferris wheel is open daily, but the coolest experience must be during the Navy Pier Summer Fireworks that display in sync to music over Lake Michigan every Wednesday and Saturday.
875 North Michigan: 875 North Michigan Avenue is a 100-storey skyscraper in the Magnificent Mile district of Chicago. The glistening building is one of Chicago's tallest structures and one of the most recognisable in the world. The Observation Deck on the 94th floor provides a 360-degree vista of the city. If you visit on a clear, sunny day, your views stretch for 80 miles – into 4 different states. Apart from the views, thrill-seekers can brave "The Tilt" attraction. You are tilted outwards while standing on an enclosed glass and steel platform, allowing you to see Chicago from a never-before-seen angle. Skip the queues and buy tickets for the attraction online. If adrenaline rushes aren't your kind of fun, there is a café and bar where you can relax with a craft beer or cocktail.
Chicago Riverwalk: Before the flows of the Chicago River meet Lake Michigan, it runs through most of The Loop. One of the best ways to see the city from up close is the Chicago Riverwalk, a gentrified waterfront path through downtown, along the river's south bank. Start your walks from Lake Shore Drive and up to Lake Street. Along the way, you have plenty of restaurants, park gardens, and bridges, where you can pause and take in the high-rise city views.
Adler Planetarium: Founded in 1930, Adler Planetarium is a monumental science facility occupying the north-eastern tip of Chicago's Northerly Island. It has a vintage charm with its prominent planetarium dome and Art Deco exterior embellished with bronze zodiac reliefs. From inside the dome, you can travel through the universe through the Grainger Sky Theater's digital projection. Scenic offerings outside include the 12th Street Beach, the boat docks of Burnham Harbor, and ultimately, the Skyline Walk from where you can take in the best views of Chicago.
Magnificent Mile: If you're looking for the most luxurious shopping scene in Chicago, head down to the Magnificent Mile. It's part of North Michigan Avenue, where you can find a series of upscale shops, hip dining spots and some of Chicago's finest big-brand hotels, such as the Four Seasons, Ritz-Carlton, The Conrad, and Park Hyatt. Grand malls here include Nordstrom, and Water Tower Place, which houses a Macy's. Come in the summer and you can experience the Gardens of The Magnificent Mile festival, where its blooming planters are sometimes graced with designer fashion.
Skydeck Chicago: This feature lets you literally stand on the edge of the 103rd-floor of one of the world's tallest skyscrapers, at over 1,300 feet high, overlooking the Chicago cityscape. You can get a good view from the The Skydeck observatory, but the real highlight is the appropriately named 'The Ledge'. You step into either of the 2 glass boxes which extend out, with your feet seemingly hovering over the dizzying heights below. Another similar sensation that lets you experience the heights over the city is 360 Chicago, a 94th-floor observatory at the John Hancock Building. Rather than stationery, its lookout is a tilting glass enclosure for added thrills.
Field Museum: Just south of Shedd Aquarium, you can deepen your knowledge of the animal kingdom, geology, and palaeontology at the Field Museum of Natural History. Permanent exhibitions showcase everything from the evolution of life on Earth and the diversity of mammals on the world's continents to human history in the Ancient Americas. Among the main highlights are Sue, the most complete Tyrannosaurus Rex fossil the world has ever seen, and Maximo, the largest dinosaur that ever lived.
Chicago Harbor: Chicago Harbor is the collective name for all the piers, marinas, waterways, and lakes along the city's lakefront. There are plenty of things to do here that won't cost you a dime. You can stroll the Navy Pier and take in all the views and the comings and goings of yachts. The popular pier juts out into the lake a few blocks east of Downtown Chicago. If the weather is pleasant, sun-seekers can spend the day on North Avenue Beach, located in Lincoln Park on Lake Michigan. For a quiet morning, the prettily landscaped Garden of the Phoenix will leave you feeling refreshed and renewed.
Chicago Theatre: A high-rise Chicago landmark that features French Baroque architecture 7 stories tall, the Chicago Theatre is where you can watch the latest rock bands, Broadway musicals, as well as comedic acts perform. These range from hit TV musical series brought to life onstage such as Bring It! Live, to performances of rock to synth-pop bands, and hilarious nights with wisecracking acts such as Russel Peters. Ticket prices vary per event and your chosen seating level, but start from around $40.