Eco Friendly Porta Potty Services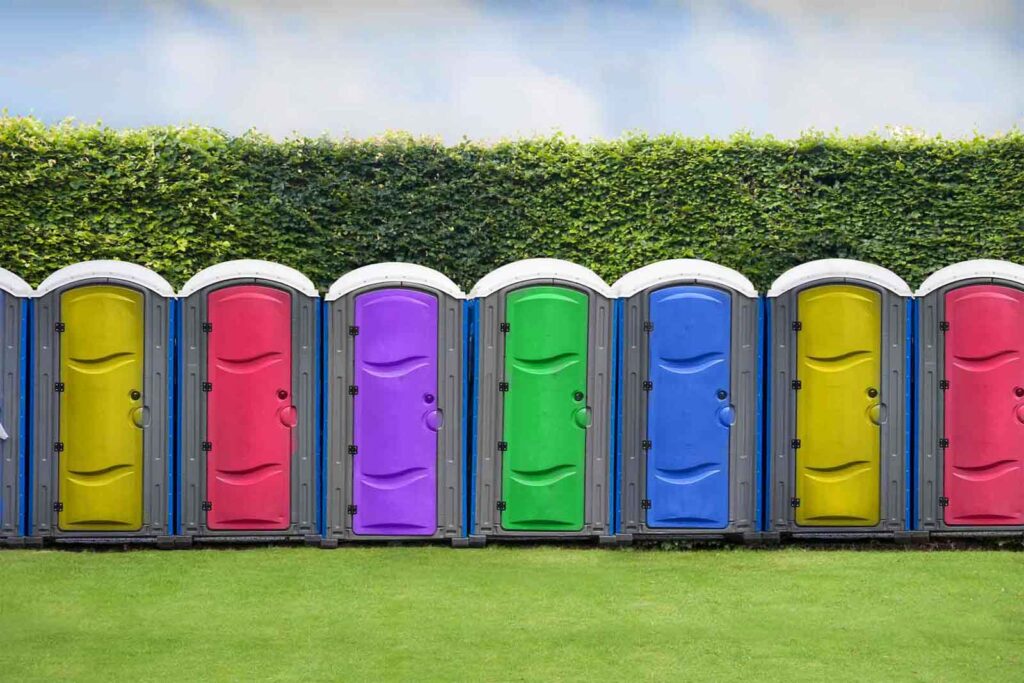 Elite Porta Potty is a professional portable toilet supplier in Columbus, OH.
We are committed to providing you with a superior level of service and value, which we achieve by giving you a choice of different options to choose from (see Our Range below).
Our company has been helping residents and businesses of Columbus for over 5 years.
We pride ourselves on the range and calibre of our restrooms.
Our portable toilets are suitable for a range of occasions, including but not limited to: construction sites, sporting events, concerts, weddings, public social gatherings, corporate events, parties and festivals.
Our porta johns are environmentally friendly and we use the latest sanitation techniques to deliver you a 5 star portable restroom.
Range Of Porta Pottys
Our selection of restroom rentals in Columbus includes:
Standard Restrooms: this is our basic model which gives you the basics. It's the most economically friendly option with no frills.
Deluxe Restrooms: this is our most popular version because it's reasonably priced but it also offers you several extras, making it suitable for large events or construction sites.
Flushing Restrooms: this special option includes a hands free flush to offer an extra level of convenience for your guests.
ADA-Compliant: this is suitable for disabled/handicapped people or for parents that are helping young children to use the restroom.
Trailer Mounted Restrooms: this option is a good choice for crews that work at a construction site or for workers that are in the field.
High Rise Restrooms: if you're working on a tall building then this is the option for you. Our units can be placed near to your workers on site.
Leave A Review
https://g.page/r/CcjSfxWM8dxcEBA
Divine Porta Potty Columbus
434 E Rich St #2
Columbus
OH 43215
Portable Toilet Service Areas in Columbus
Columbus Zip Codes That We Service:
43002, 43004, 43016, 43017, 43026, 43035, 43054, 43065, 43068, 43081, 43082, 43085, 43109, 43110, 43119, 43123, 43125, 43137, 43147, 43201, 43202, 43203, 43204, 43205, 43206, 43207, 43209, 43210, 43211, 43212, 43213, 43214, 43215, 43217, 43219, 43220, 43221, 43222, 43223, 43224, 43227, 43228, 43229, 43230, 43231, 43232, 43235, 43240
Local Cities That We Service
Bexley, Blacklick, Clintonville, Delaware, Dublin, Franklinton, Forest Park, Gahanna, German Village, Grandview, Granville, Grove City, Hilliard, Hilltop, Italian Village, Linden, Marysville, New Albany, Old Towne East, Pickerington, Powell, Reynoldsburg, Upper Arlington, Westerville, Whitehall, Worthington
About New Columbus, OH
Columbus is Ohio's state capital. The city's Scioto Mile is a string of parks on both sides of the Scioto River, with a huge interactive fountain and trails. On the west bank, the COSI science center offers hands-on exhibits and a planetarium. Downtown, the Columbus Museum of Art includes American and European paintings and a sculpture garden. The German Village area has restored brick houses built by 1800s settlers.
Things To Do In Columbus, OH
Top Attractions & Events: Check out the stunning Franklin Park Conservatory and Botanical Gardens or head over to COSI (named best science museum in the nation – three years in a row). Peruse stunning works at the Columbus Museum of Art or feed a giraffe at the Columbus Zoo and Aquarium. Plus, you can find festivals of all kinds, live music all over the city and events happening every weekend! With so many things to do, there will be no shortage of memory-making!
Sports: Arena District is the proud home of three professional sports teams (Columbus Crew, Columbus Blue Jackets and the Columbus Clippers). In the autumn months, you can catch a Clippers or Blue Jackets game. And if you're headed to a game, come by early to enjoy the Arena District's DORA (Designated Outdoor Refreshment Area), and then walk to the event of your choice alongside hundreds of other impassioned sports fans.
Shopping: If you feel like shopping, go local or hit the big name brands, because we have plenty of both. Easton Town Center has even been named the top retail experience in the country for three years straight!
Drink and dine at a distillery: For most of Ohio's fraught history with alcohol, distilleries have been tightly regulated. Thanks to newish restriction rollbacks, the state's nearly 60 craft distilleries are now free to serve up food and cocktails to patrons along with their spirits. Columbus' distilleries have stepped up to the plate in a big way, creating some of the city's most standout bar-restaurants in the process. Middle West Spirit's Service Bar is making waves nationally with its cheeky and adventurous menu, and Watershed Kitchen & Bar has Prohibition style and flair to spare. But those are just the big names– in Clintonville, you might find pizza-flavored bourbon at up-and-comer 451 Spirits.
Embark on the Columbus Ale Trail: Cleveland may have started the craft beer trend in Ohio, but Columbus is now leading the way. It's no accident that UK brewing giant BrewDog decided to situate their American brewhouse — as well as the world's first craft beer hotel — in this Midwestern hub. While we're grateful to have this Scottish Invasion headquartered in Columbus, it's the local outfits that we get really excited about. Breweries like Wolf's Ridge make clever and eminently sippable brews like Cinnamon Toast Brunch, while Antiques on High and Pretentious offer bold sours to counter a largely hop-forward field. But for the best brews in the city, head to Hoof Hearted. Their dank & funky IPAs are powerful but balanced, and their packaging is just the right amount of weird. Plus, they have a pool!