Eco Friendly Porta Potty Services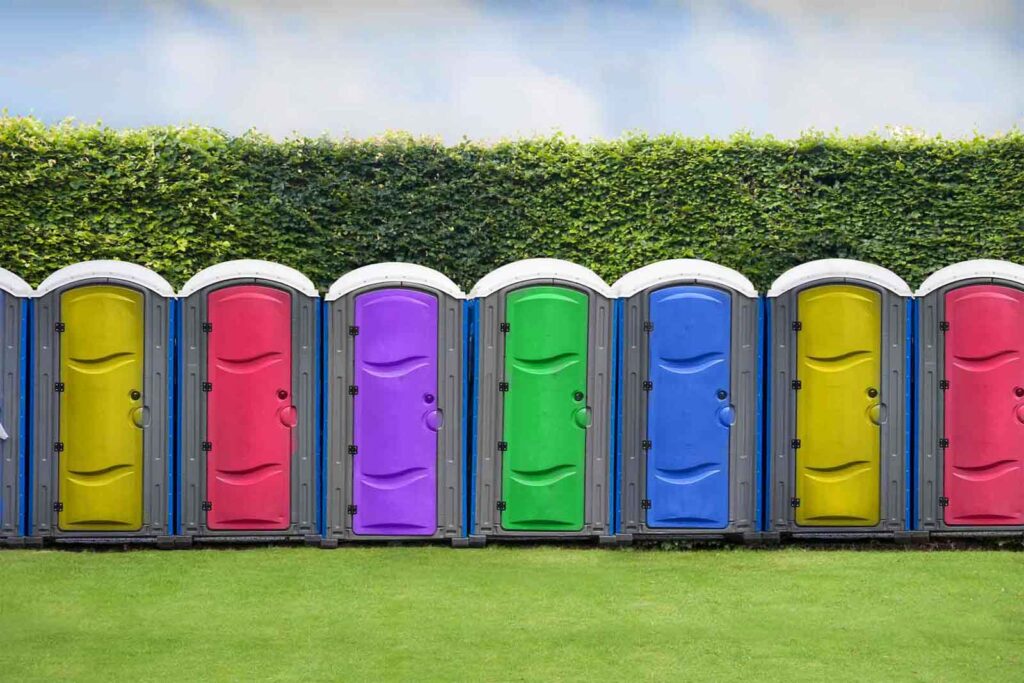 Elite Porta Potty is a professional portable toilet supplier in Dallas, TX.
We are committed to providing you with a superior level of service and value, which we achieve by giving you a choice of different options to choose from (see Our Range below).
Our company has been helping residents and businesses of Dallas for over 5 years.
We pride ourselves on the range and calibre of our restrooms.
Our portable toilets are suitable for a range of occasions, including but not limited to: construction sites, sporting events, concerts, weddings, public social gatherings, corporate events, parties and festivals.
Our porta johns are environmentally friendly and we use the latest sanitation techniques to deliver you a 5 star portable restroom.
Range Of Porta Pottys
Our selection of restroom rentals in Dallas includes:
Standard Restrooms: this is our basic model which gives you the basics. It's the most economically friendly option with no frills.
Deluxe Restrooms: this is our most popular version because it's reasonably priced but it also offers you several extras, making it suitable for large events or construction sites.
Flushing Restrooms: this special option includes a hands free flush to offer an extra level of convenience for your guests.
ADA-Compliant: this is suitable for disabled/handicapped people or for parents that are helping young children to use the restroom.
Trailer Mounted Restrooms: this option is a good choice for crews that work at a construction site or for workers that are in the field.
High Rise Restrooms: if you're working on a tall building then this is the option for you. Our units can be placed near to your workers on site.
Leave A Review
https://g.page/r/CdbFm6eQz_MNEBA
American Porta Potty Dallas
4555 W Lovers Ln #2
Dallas
TX 75209
Portable Toilet Service Areas in Dallas
Dallas Zip Codes That We Service:
75001, 75006, 75007, 75019, 75032, 75039, 75041, 75043, 75050, 75051, 75052, 75060, 75061, 75062, 75063, 75075, 75080, 75081, 75087, 75088, 75089, 75093, 75098, 75104, 75115, 75116, 75126, 75134, 75141, 75149, 75150, 75159, 75166, 75182, 75201, 75202, 75203, 75204, 75205, 75206, 75207, 75208, 75209, 75210, 75211, 75212, 75214, 75215, 75216, 75217, 75218, 75219, 75220, 75223, 75224, 75225, 75226, 75227, 75228, 75229, 75230, 75231, 75232, 75233, 75234, 75235, 75236, 75237, 75238, 75240, 75241, 75243, 75244, 75246, 75247, 75248, 75249, 75251, 75252, 75253, 75254, 75270, 75287, 75390
Local Cities That We Service
Downtown, Cypress Waters, Fair Park, Far East Dallas, Far North Dallas, Far Northeast Dallas, Lake Highlands, Lakewood, Love Field, Medical District, Mountain Creek, North Dallas, Northeast Dallas, Northwest Dallas, Oak Cliff, Oak Lawn, Old East Dallas, Park Cities, Pleasant Grove, Red Bird, South Dallas, Southeast Dallas, Stemmons/Market Center, West Dallas, White Rock, Beyond Dallas
About Dallas, TX
Dallas, a modern metropolis in north Texas, is a commercial and cultural hub of the region. Downtown's Sixth Floor Museum at Dealey Plaza commemorates the site of President John F. Kennedy's assassination in 1963. In the Arts District, the Dallas Museum of Art and the Crow Collection of Asian Art cover thousands of years of art. The sleek Nasher Sculpture Center showcases contemporary sculpture.
Things To Do In Dallas, TX
Bishop Arts District: Just a short distance southwest of Downtown Dallas is the trendy shopping and entertainment neighbourhood of Bishop Arts District. Take a walk around the area, admiring the colourful street art and bohemian vibe, while browsing all the unique fashion boutiques and independent shops, such as Opportunity Market.
John F. Kennedy Memorial Plaza: Located in the heart of Downtown Dallas, the John F. Kennedy Memorial Plaza is an artistic monument, offering a place for reflection and remembrance. A fitting place to begin your time in Dallas, the large, roofless square room was dedicated to the 35th president on 24th June 1970. The 30-ft-high and 50-ft-wide white granite structure features only 3 words, 'John Fitzgerald Kennedy', painted in gold. It's found just a block away from Dealey Plaza, where the president was assassinated in 1963.
The Sixth Floor Museum: Head to Dallas' historic Dealey Plaza, the site of John F. Kennedy's assassination, and make your way up to The Sixth Floor Museum. The museum is found inside the former Texas School Book Depository, from where Lee Harvey Oswald fired the shots that would take the life of the 35th president. The life and legacy of JFK and the full breakdown of the fateful day of 22nd November 1963 are now documented inside the museum, including a sniper's perch and Oswald's wedding ring. Stand inside the exact window that he fired from and use an audio guide to make the most of your experience.
Dallas Arboretum and Botanical Garden: Enjoy some respite from the hustle and bustle of the busy city streets and while away your time in the breathtaking Dallas Arboretum and Botanical Garden. The 66 acres of beautiful green space are nestled on the banks of White Rock Lake and are nationally acclaimed as one of the best botanical gardens in the country. Wander among arty sculptures and blankets of brightly-coloured flowers, blossoming all year round. If you're in Dallas during the summer, regular outdoor concerts take place here on Thursday evenings.
Six Flags Over Texas: For the ultimate adrenaline rush, travel 20 minutes out of Downtown Dallas and experience the rides, shows and attractions at Six Flags Over Texas. Known as the Thrill Capital of Texas, the theme park is home to over 100 rides, including 14 world-class roller coasters. Thrill-seekers will love riding the twisted tracks of Titan and the mammoth New Texas Giant, but there's plenty for kids and families to enjoy, too. They say everything's bigger in Texas and it's certainly true at Six Flags. Watch out for the world's largest loop coaster, Lone Star Revolution.
AT&T Stadium: It might not be the largest stadium in America, but the AT&T Stadium at Arlington is certainly one of the most impressive. Nicknamed 'Jerry's World' after the Cowboys owner, Jerry Jones, the stadium seats over 85,000 fans and is known for its spaceship-like innovative design. By all means, try and catch a game there if the dates fall right for your visit. But if not, treat yourself to a VIP guided tour behind the scenes, where you'll get to see everything from the 58 pieces of contemporary art featured all around the stadium, to the post-game interview room and even the locker room of the Cowboys themselves.
Reunion Tower: You can't possibly head to Dallas without taking a trip up Reunion Tower and being rewarded with the breathtaking sight of the city from 470 feet up. From the tower's GeO-Deck, you're treated to 360-degree panoramic views of the Dallas skyline and there's no better time of day to see this than in the beautifully glowing light of sunset. Make the most of the high-definition zoom cameras and interactive touch screens and feel the breeze in your hair out on the observation deck. Check what's on before you go, as they often hold events at the top, such as Sunset Sky High Yoga.
Deep Ellum entertainment district: Deep Elm, Deep Ellum… Whatever you call it, your experience here will be an eclectic night full of bustling bars and some of the best live music in the city. The streets are lined with vibrant art and the area is home to unique art galleries, as well as more than 30 live music venues. Fill your night with rooftop bars, traditional speakeasies, piano bars and salsa clubs. But, of course, be sure to catch some live jazz and blues while you're there. Oh, and if you're wondering, the area was originally called Deep Elm, but after years of mispronunciation, it became better known as Deep Ellum.