Eco Friendly Porta Potty Services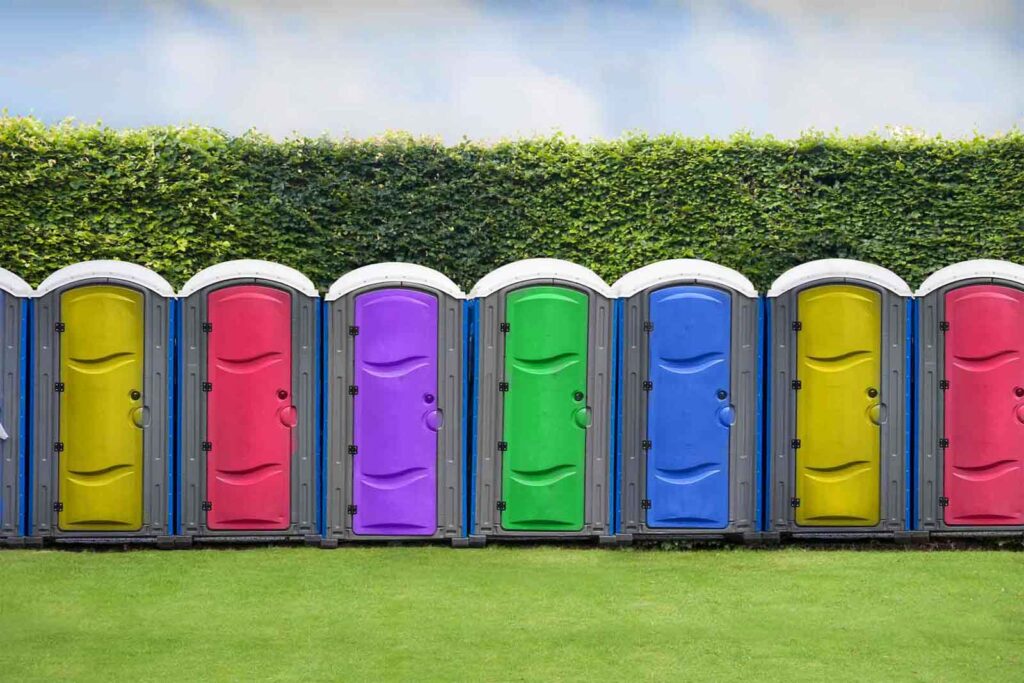 Elite Porta Potty is a professional portable toilet supplier in Fort Worth, TX.
We are committed to providing you with a superior level of service and value, which we achieve by giving you a choice of different options to choose from (see Our Range below).
Our company has been helping residents and businesses of Fort Worth for over 5 years.
We pride ourselves on the range and calibre of our restrooms.
Our portable toilets are suitable for a range of occasions, including but not limited to: construction sites, sporting events, concerts, weddings, public social gatherings, corporate events, parties and festivals.
Our porta johns are environmentally friendly and we use the latest sanitation techniques to deliver you a 5 star portable restroom.
Range Of Porta Pottys
Our selection of restroom rentals in Fort Worth includes:
Standard Restrooms: this is our basic model which gives you the basics. It's the most economically friendly option with no frills.
Deluxe Restrooms: this is our most popular version because it's reasonably priced but it also offers you several extras, making it suitable for large events or construction sites.
Flushing Restrooms: this special option includes a hands free flush to offer an extra level of convenience for your guests.
ADA-Compliant: this is suitable for disabled/handicapped people or for parents that are helping young children to use the restroom.
Trailer Mounted Restrooms: this option is a good choice for crews that work at a construction site or for workers that are in the field.
High Rise Restrooms: if you're working on a tall building then this is the option for you. Our units can be placed near to your workers on site.
Leave A Review
https://g.page/r/CWGesHaWqnwREBA
Essential Porta Potty Fort Worth
711 Pennsylvania Ave #2
Fort Worth
TX 76104
Portable Toilet Service Areas in Fort Worth
Fort Worth Zip Codes That We Service:
76006, 76008, 76012, 76013, 76020, 76028, 76036, 76039, 76040, 76051, 76052, 76053, 76060, 76102, 76103, 76104, 76105, 76106, 76107, 76108, 76109, 76110, 76111, 76112, 76114, 76115, 76116, 76117, 76118, 76119, 76120, 76123, 76126, 76127, 76129, 76131, 76132, 76133, 76134, 76135, 76137, 76140, 76148, 76155, 76164, 76177, 76179, 76244, 76247, 76248, 76262
Local Cities That We Service
Colonial, Tanglewood, Westover Hills, Monticello, Rivercrest, River District, Need to know, Arlington Heights, Downtown, Ridgmar, Ridglea North / Ridglea Hills, Fairmount / Ryan Place, Crestwood, Park Hill / Berkeley Place, Aledo / Parker County, Riverhills / Overton Park (Woods), Walsh Ranch, Montserrat / Montrachet, Mira Vista, Stonegate, La Cantera, Mistletoe Heights, Meadows West, Weatherford, Eagle Mountain Lake, Lake Grandbury, Lake Weatherford
About Fort Worth, TX
Fort Worth is a city in North Central Texas. In the late 19th century, it became an important trading post for cowboys at the end of the Chisholm Trail. Today, it's a modern city, with international art institutions like the Kimbell Art Museum. The Fort Worth Stockyards are home to rodeos, and the National Cowgirl Museum and Hall of Fame honors pioneers.
Things To Do In Fort Worth, TX
Fort Worth Water Gardens: Situated downtown, right next to the Fort Worth Convention Center, the Fort Worth Water Gardens are perfect for those craving a quiet, nature-filled hideout away from all the hustle and bustle. Impeccably designed by Philip Johnson, the gardens are a true architectural feat: there are modernist pools, cascading waterfalls, terraces, and a central plaza, but the highlight is undoubtedly the Active Pool, where water rushes down steep, stone steps to a sunken gorge below. Perfect at any time of year.
Amon Carter Museum of American Art: One of the most revered American art museums in the country, the Amon Carter Museum of American Art opened in 1961 under the will of the late Amon G. Carter, the founder and publisher of the Fort Worth Star-Telegram. Today, this state-renowned museum houses more than 200,000 objects, including oil paintings, rare books, sculptures, and an incredible photography collection. Best of all? It's free. Before you go, look at their calendar of events for mixers, tours, and family days.
Fort Worth Stockyards: Easily the most famous (and photographed) attraction in town, the Fort Worth Stockyards is a historic cattle district steeped in longtime cowboy tradition; now a hub for live entertainment, including rodeos, concerts, and shootout shows. This is where to get a rich insight into Fort Worth's Wild West culture and its famous livestock industry—the city used to be known as "Cowtown" due to being one of the biggest stockyards and processing operations in the West. Strolling through the Stockyards is akin to stepping back in time. Don't miss the free twice-daily cattle drive starring their iconic Texas Longhorns.
Fort Worth Museum of Science and History: Located in the Cultural District, the Fort Worth Museum of Science and History contains several awesome science and history exhibits, a planetarium, and an IMAX Dome, which features a 120-foot screen. Adults and children alike are bound to thoroughly enjoy this museum and its dazzling variety of immersive, hands-on exhibits. Catch a show in the Omni Theater, the IMAX Dome, and pass the time in the Noble Planetarium, which offers dynamic views of the night sky, the galaxy, and beyond.
Kimbell Art Museum: Art and architecture fans should not miss the Kimbell, whose permanent collection is one of the best in the country, if not the world. Designed by famed architect Louis Kahn, this world-class art museum boasts a top-notch collection of masterpieces by Matisse, Picasso, Rembrandt, Goya, and dozens of others. Apart from the artwork, the building itself is often referred to as one of the most notable works of architecture of the 20th century. Glorious!
Sundance Square: Sundance Square, a 35-block entertainment and residential district in downtown Fort Worth is the city's foremost destination for dining, shopping, and enjoying a cocktail or two (or three). It's one of the most walkable urban areas in Texas (or elsewhere), and you're super spoilt for choice with pit stops: there are hundreds of bars, restaurants, boutiques, and galleries in beautifully restored historic buildings. After exploring, relax in scenic Hyde Park, Burnett Park, or the ever-popular Sundance Square Plaza, which hosts live music on weekends.
Modern Art Museum of Fort Worth: Modern art aficionados will love exploring the Modern. This gallery is a remarkable collection of contemporary artworks that span various movements (Abstract Expressionism, Pop, Minimalism, and New Image Painting), all displayed in a spectacular glass-and-concrete building designed by architect Tadao Ando. Discover works by prominent artists like Jackson Pollock and Mark Rothko, meander through special exhibitions and pause to admire the building's truly unique architecture. Then, take a coffee break in Café Modern's dining room, set on the museum's picturesque reflecting pond.
Fort Worth Nature Center & Refuge: Featuring prairies, forests, and wetlands, the Fort Worth Nature Center & Refuge covers more than 3,600 acres and is home to over 20 miles of walking trails. For travelers who've had their fill of city life and want a quick dose of nature, the center is a must-visit. Located just 10 miles from downtown Fort Worth, the beautiful park and outdoor education center is home to bison, alligators, prairie dogs, and other diverse local flora and fauna.
Fort Worth Zoo: Having opened in 1909 with just six species (some of which were rabbits), Fort Worth Zoo has stuck its ground and become a major tourist attraction, as well as earning the title of oldest continuously run zoo in Texas. Today they have over 7,000 national and exotic creatures, a petting enclosure, a rock climbing wall, a hurricane simulator, and a miniature train that runs between the Safari Depot and Texas Wild attraction. Open year-round, come by on Wednesday if you want to save some cash—tickets are half price.