Eco Friendly Porta Potty Services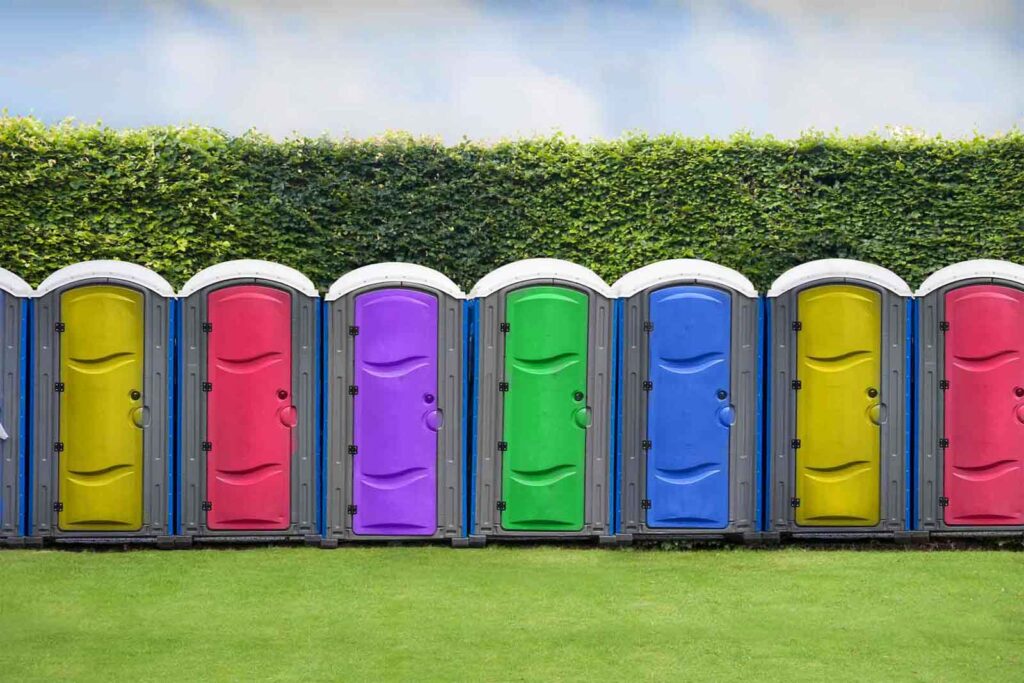 Elite Porta Potty is a professional portable toilet supplier in Houston, TX.
We are committed to providing you with a superior level of service and value, which we achieve by giving you a choice of different options to choose from (see Our Range below).
Our company has been helping residents and businesses of Houston for over 5 years.
We pride ourselves on the range and calibre of our restrooms.
Our portable toilets are suitable for a range of occasions, including but not limited to: construction sites, sporting events, concerts, weddings, public social gatherings, corporate events, parties and festivals.
Our porta johns are environmentally friendly and we use the latest sanitation techniques to deliver you a 5 star portable restroom.
Range Of Porta Pottys
Our selection of restroom rentals in Houston includes:
Standard Restrooms: this is our basic model which gives you the basics. It's the most economically friendly option with no frills.
Deluxe Restrooms: this is our most popular version because it's reasonably priced but it also offers you several extras, making it suitable for large events or construction sites.
Flushing Restrooms: this special option includes a hands free flush to offer an extra level of convenience for your guests.
ADA-Compliant: this is suitable for disabled/handicapped people or for parents that are helping young children to use the restroom.
Trailer Mounted Restrooms: this option is a good choice for crews that work at a construction site or for workers that are in the field.
High Rise Restrooms: if you're working on a tall building then this is the option for you. Our units can be placed near to your workers on site.
Leave A Review
https://g.page/r/Cd320nmYkehKEBA
American Porta Potty Houston
3117 White Oak Dr
Houston
TX 77007
Portable Toilet Service Areas in Houston
Houston Zip Codes That We Service:
77002, 77003, 77004, 77005, 77006, 77007, 77008, 77009, 77010, 77011, 77012, 77013, 77014, 77015, 77016, 77017, 77018, 77019, 77020, 77021, 77022, 77023, 77024, 77025, 77026, 77027, 77028, 77029, 77030, 77031, 77032, 77033, 77034, 77035, 77036, 77037, 77038, 77039, 77040, 77041, 77042, 77043, 77044, 77045, 77046, 77047, 77048, 77049, 77050, 77051, 77053, 77054, 77055, 77056, 77057, 77058, 77059, 77060, 77061, 77062, 77063, 77064, 77065, 77066, 77067, 77068, 77069, 77070, 77071, 77072, 77073, 77074, 77075, 77076, 77077, 77078, 77079, 77080, 77081, 77082, 77083, 77084, 77085, 77086, 77087, 77088, 77089, 77090, 77091, 77092, 77093, 77094, 77095, 77096, 77098, 77099, 77201, 77336, 77338, 77339, 77345, 77346, 77357, 77365, 77373, 77375, 77377, 77379, 77386, 77388, 77396, 77401, 77406, 77407, 77429, 77433, 77447, 77449, 77450, 77477, 77478, 77484, 77489, 77493, 77494, 77498, 77503, 77504, 77506, 77520, 77530, 77532, 77536, 77546, 77547, 77571, 77587, 77598
Local Cities That We Service
Acres Home, Addicks – Park Ten, Afton Oaks – River Oaks, Alief, Astrodome, Braeburn, Braeswood Place, Briarforest, Carverdale, Central Southwest, Cinco Ranch, Clear Lake, Clinton Park Tri-Community, Denver Harbor – Port Houston, Downtown Houston, East Houston, East Little York, Eastex – Jensen, Eastwood, Edgebrook, El Dorado – Oates Prarie, Eldridge – West Oaks, Energy Corridor, Fairbanks – Northwest Crossing, Fifth Ward, Fondren Gardens, Fondren Southwest, Fort Bend Houston, Fourth Ward, George Bush, Intercontinental Airport, Golfcrest, Great Uptown, Greenspoint, Greenway – Upper Kirby, Gulfgate – Pine Valley, Gulfton, Harrisburg – Manchester
Heights, Hidden Valley, Hobby Area, Hunterwood, Independence Heights, Inwood, Kashmere Gardens, Kingwood, Langwood, Lawndale – Wayside, Lazy Brook – Timbergrove, MacGregor, Magnolia Park, Meadowbrook – Allendale
Medical Center, Memorial, Meyerland Area, Midtown, Mill Ridge North, Minnetex, Neartown – Montrose, Northshore, Northside – Northline, Northside Village, Oak Forest – Garden Oaks, OST – South Union, Park Place, Pecan Park, Pleasantville Area, Second Ward, Settagast, Sharpstown, South Acres – Crestmont Park, South Main, South Park, Southbelt – Ellington, Spring Branch Central, Spring Branch East, Spring Branch West, Spring Shadows, Sunnyside, The Museum District, Third Ward, Trinity – Houston Gardens, University Place, Washington Avenue – Memorial Park, Westbranch, Westbury, Westchase, Westwood, Willow Meadows – Willowbend, Willowbrook, Woodlake – Briar Meadow
About Houston, TX
Houston is a large metropolis in Texas, extending to Galveston Bay. It's closely linked with the Space Center Houston, the coastal visitor center at NASA's astronaut training and flight control complex. The city's relatively compact Downtown includes the Theater District, home to the renowned Houston Grand Opera, and the Historic District, with 19th-century architecture and upscale restaurants.
Things To Do In Houston, TX
Hermann Park: Probably one of the best things to do in Houston if you fancy a chillout day, Hermann Park is lovely to stroll through. Situated near Hoston's biggest museums, Hermann Park has lots of spots to explore. From the gorgeous Japanese Garden, Miller Outdoor Theatre to the totally cute Hermann Park Railroad – you're going to love visiting.
BAPS Shri Swaminarayan Mandir: Nestled on the south-west fringes of Houston, the BAPS Shri Swaminarayan Mandir (temple) is totally gorgeous to see. Not only that, it's the largest in all of Texas and so eye-catching for a little visit. Open daily, all are welcomed to visit and see. Just remember to be respectful and not to take any photos inside.
Museum of Fine Arts: Still hankering for some more exhibitions and galleries? Then hop over to the Museum of Fine Arts. It houses the largest cultural institution featuring the collections of nearly 70,000 objects of American art and Latin American art. Not only that, but the museum also contains the European paintings, sculptures of the 20-21st century and so much more. Trust me, you won't wanna miss it. If that's not your thing, pop over to the Cockrell Butterfly Center that's attached to the Museum of Natural Science. It's a huge glass-enclosed butterfly ecosystem that includes thousands of colourful species of butterflies.
Buffalo Bayou Park: Buffalo Bayou Park is a beautiful urban park featuring a number of spots that's great for a relaxing day in Houston. Including a skateboarding park, playground (for the kids), picnic pavilion, and a tributary, it's the kind of spot to really just chill and take a rest from stomping the streets of the city. Not only that, it's a totally lovely spot to enjoy some kayaking and paddle boarding on a warm sunny day.
San Jacinto Park: Heading away from the downtown area of Houston? Pop into San Jacinto Park to explore this beautiful part of the city. Not only are the grounds of the park totally lovely to stroll on a sunny day; but it's also got lots of history to this site. You see, right here is the San Jacinto Battleground State Historic Site which has a museum and monument to visit.
Children's Museum of Houston: Yeah, if you haven't realised by now, Houston has a heap of museums to explore; and they're all so good! For a family-fun spot, head over to the Children's Museum of Houston that's totally great for kids. Once here, you will see exhibitions of science and technology and also the exhibitions of history and culture and the arts that make their permanent collections so special. After a morning in the museum, head over to Lucille's for their tasty southern brunch. Their chicken and waffles will leave you stuffed!
Galveston: If you're wanting to get away from the downtown area of Houston, hop in the car and get yourself over to the coastline at Galveston. Fill with beautiful beaches, a kitsch amusement park and a pleasure pier, it's the kind of spot you can spend all day. Honestly, Galveston has many epic things to do and explore and is perfect for some time away from the city itself. Once here, you can't miss some of Galveston's best beaches. Some favourites are; East Beach, Stewart Beach, Porretto Beach, and San Luis Beach. Just be sure to pack your sunblock; the wind can fool you into thinking the sun isn't that strong!
Gerald D. Hines Waterwall: Pretty unique and totally Houston, the Gerald D. Hines Waterwall is a spot you kinda can't miss. Yes, it's a manmade waterfall but the power is incredible and actually a really cool spot to visit that's next to the Williams Tower. Though be warned, when the wind changes direction you might just get sprayed with a downpour! Also, it's not too far from the Galleria, with its whopping 400 boutiques to shop till you drop! Not only are there some Texan brands but you'll also find heaps of international ones like Burberry, Chanel and Gucci. Afterwards, grab a table at Caracol, their "ranch water agave" cocktail and their seared scallops are both so good!
Houston Museum of Natural Science: Another great spot, visiting the Museum of Natural Science is one of the best things to do in Houston for a trip back millions of years! You see, inside is the world-famous palaeontology hall that can't be missed. Here, you can explore the dinosaur's fossils and many exhibit halls including space-station models and mineral specimens. You will also get to see some Egypt exhibitions and the museum's butterfly center, too.