Eco Friendly Porta Potty Services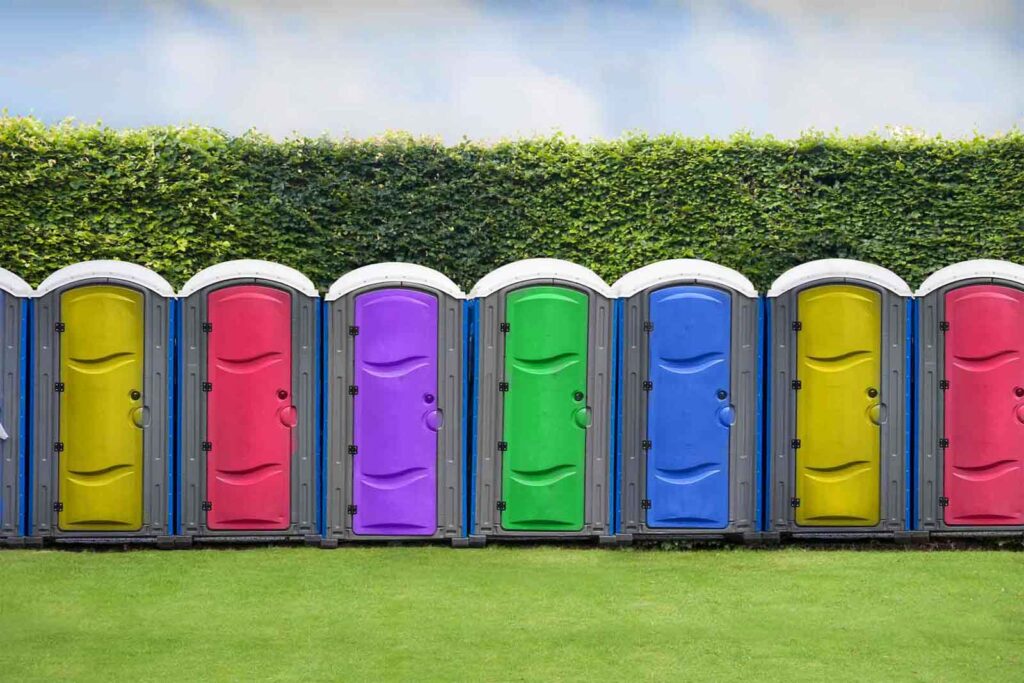 Elite Porta Potty is a professional portable toilet supplier in Indianapolis, IN.
We are committed to providing you with a superior level of service and value, which we achieve by giving you a choice of different options to choose from (see Our Range below).
Our company has been helping residents and businesses of Indianapolis for over 5 years.
We pride ourselves on the range and calibre of our restrooms.
Our portable toilets are suitable for a range of occasions, including but not limited to: construction sites, sporting events, concerts, weddings, public social gatherings, corporate events, parties and festivals.
Our porta johns are environmentally friendly and we use the latest sanitation techniques to deliver you a 5 star portable restroom.
Range Of Porta Pottys
Our selection of restroom rentals in Indianapolis includes:
Standard Restrooms: this is our basic model which gives you the basics. It's the most economically friendly option with no frills.
Deluxe Restrooms: this is our most popular version because it's reasonably priced but it also offers you several extras, making it suitable for large events or construction sites.
Flushing Restrooms: this special option includes a hands free flush to offer an extra level of convenience for your guests.
ADA-Compliant: this is suitable for disabled/handicapped people or for parents that are helping young children to use the restroom.
Trailer Mounted Restrooms: this option is a good choice for crews that work at a construction site or for workers that are in the field.
High Rise Restrooms: if you're working on a tall building then this is the option for you. Our units can be placed near to your workers on site.
Leave A Review
https://g.page/r/CZg9HxjWQpkYEBA
Deluxe Porta Potty Indianapolis
1255 W Sumner Ave #2
Indianapolis
IN 46217
Portable Toilet Service Areas in Indianapolis
Indianapolis Zip Codes That We Service:
46077, 46107, 46113, 46183, 46201, 46202, 46203, 46204, 46205, 46208, 46214, 46217, 46218, 46219, 46220, 46221, 46222, 46224, 46225, 46226, 46227, 46228, 46229, 46231, 46234, 46235, 46236, 46237, 46239, 46240, 46241, 46250, 46254, 46256, 46259, 46260, 46268, 46278
Local Cities That We Service
Carmel, Fishers, Downtown Indianapolis, Meridian Kessler, Broad Ripple, Geist, Butler-Tarkington, Chatham Arch, Fletcher Place, Fountain Square, Herron-Morton Place, Irvington
About Indianapolis, IN
Indianapolis, colloquially known as Indy, is the state capital and most-populous city of the U.S. state of Indiana and the seat of Marion County. According to the United States Census Bureau, the consolidated population of Indianapolis and Marion County in 2020 was 977,203.
Things To Do In Indianapolis, IN
The Indianapolis Motor Speedway Museum: Even if your visit to Indianapolis doesn't coincide with the world-famous Indy 500 race, the Indianapolis Motor Speedway Museum should still be high up on your list of things to do. Located at the speedway itself, the museum showcases all the best stories and the history of racing at the Indianapolis Motor Speedway. At the museum, you can discover all there is to know about the automotive industry in the state and see trophies and race memorabilia from events all around the world. If you did want to plan your trip around the 500-mile race, it usually takes place towards the end of May each year.
Indianapolis Cultural Trail: The Indianapolis Cultural Trail is a picturesque, engaging and popular way to take in the sights and attractions of Downtown Indy. It's actually made up of multiple trails and routes, so you can take your time over the course of your visit to explore the areas that you want. A lot of people choose to walk parts of the 8-mile Cultural Trail, but one of the best ways to cover some ground is to hire a Bikeshare from one of the 29 stations dotted around the city. The trails feature a whole host of amazing restaurants en route, so for the ultimate cycling experience, book yourself onto one of its weekend dining tours by bike.
The Children's Museum of Indianapolis: If you're travelling to Indianapolis with kids, then a trip to the largest children's museum in the world is an absolute must. The Children's Museum of Indianapolis boasts a staggering 29 acres of interactive exhibits, activities and attractions, teaching kids all about natural science, physics, history, culture and art. Discover some of the rarest fossils in the world, visit the on-site planetarium and be sure to check out the brand new Riley Children's Health Sports Legends Experience. It's no surprise that this is voted one of the top things to do in Indy. Not travelling with kids? Don't worry, you won't be the only people visiting without them.
Central Canal: Take a break from the hustle and bustle of Downtown Indianapolis and see the sights of the Central Canal by pedalo. A ride along the 3-mile loop of waterway is not only relaxing, but also offers some of the best views of the city's picture-perfect skyline. Pedal your way past Indianapolis Zoo, Victory Field, the Indiana State Museum and alongside White River State Park. If you don't fancy renting a pedal boat, you can opt for a kayak or bike, or just take to the canal paths and walk. For a truly romantic experience, you can even book a private gondola ride.
Monument Circle: Whichever way you look at it, both on a map and in reality, the impressive Monument Circle forms the main focal point of Indianapolis. Central to everything that goes on in the city, tourists and locals alike use it as a meeting spot, a point of interest and a place to watch the world go by. The circle is built around the towering Soldiers' and Sailors' Monument. Standing at 284 ft tall, it was built in 1888 and commemorates the Hoosiers of the American Civil War. While you're there, head to the top of the monument and take in the exceptional views from the observation deck. It's free to do if you take the steps and not the elevator.
Fountain Square: Head southeast of Downtown Indy and explore the unique and funky neighbourhood of Fountain Square. With independent stores and a variety of different arts and entertainment, it's a great area to explore and find yourself a bargain or 2. Browse the shops while walking between artists at work and hearing the sound of live music playing as you go. You'd better have some space left in your suitcase because you can buy everything here, from clothes and collectables, to comics, musical instruments and brightly-coloured bouquets. Okay, maybe the flowers won't last the flight home, but the rest will make excellent enduring souvenirs.
Lucas Oil Stadium: Forget the Pacers and the Colts, there's nothing more exciting and entertaining than watching an Indy Eleven soccer game at the Lucas Oil Stadium. The state-of-the-art stadium can hold up to 67,000 spectators and it's got a retractable roof to shade you from the sun on hot days. By night, the stadium boasts spectacular views of the lit-up city skyline. It's the atmosphere here that makes every game such a memorable occasion, so it's well worth checking the schedule to tie your visit in with a match day. But don't worry if the timings aren't right. You can take a guided tour of the stadium, instead, and see the locker rooms, press box, Lucas Oil Plaza and more.