Eco Friendly Porta Potty Services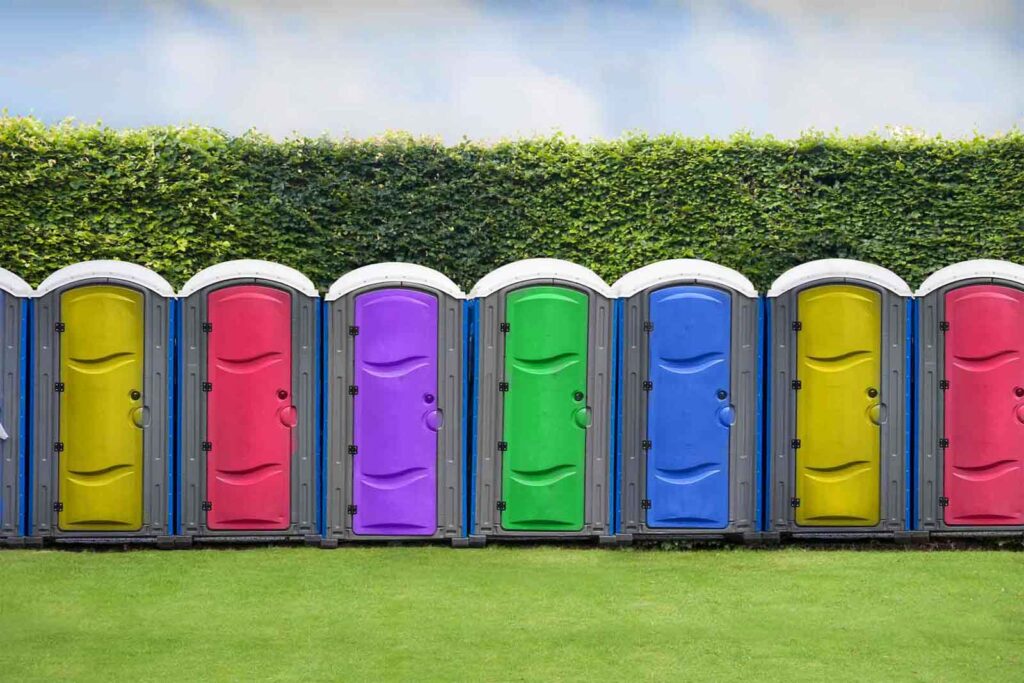 Elite Porta Potty is a professional portable toilet supplier in Kansas City MO.
We are committed to providing you with a superior level of service and value, which we achieve by giving you a choice of different options to choose from (see Our Range below).
Our company has been helping residents and businesses of Kansas City for over 5 years.
We pride ourselves on the range and calibre of our restrooms.
Our portable toilets are suitable for a range of occasions, including but not limited to: construction sites, sporting events, concerts, weddings, public social gatherings, corporate events, parties and festivals.
Our porta johns are environmentally friendly and we use the latest sanitation techniques to deliver you a 5 star portable restroom.
Range Of Porta Pottys
Our selection of restroom rentals in Kansas City includes:
Standard Restrooms: this is our basic model which gives you the basics. It's the most economically friendly option with no frills.
Deluxe Restrooms: this is our most popular version because it's reasonably priced but it also offers you several extras, making it suitable for large events or construction sites.
Flushing Restrooms: this special option includes a hands free flush to offer an extra level of convenience for your guests.
ADA-Compliant: this is suitable for disabled/handicapped people or for parents that are helping young children to use the restroom.
Trailer Mounted Restrooms: this option is a good choice for crews that work at a construction site or for workers that are in the field.
High Rise Restrooms: if you're working on a tall building then this is the option for you. Our units can be placed near to your workers on site.
Leave A Review
https://search.google.com/local/writereview?placeid=ChIJ13TFCuD3wokRihfsLyQAKqE
Premier Porta Potty Kansas
6806 E 96th Terrace
Kansas City
MO 64134
Portable Toilet Service Areas in Kansas City
Kansas City Zip Codes That We Service:
64101, 64102, 64105, 64106, 64108, 64109, 64110, 64111, 64112, 64113,64114, 64116, 64117, 64118, 64119, 64120, 64121, 64123, 64124, 64125, 64126, 64127, 64128, 64129, 64130, 64131, 64132, 64133, 64134, 64136, 64137, 64138, 64139, 64141, 64144, 64145, 64146, 64147, 64148, 64149, 64150, 64151, 64152, 64153, 64154, 64155, 64156, 64157, 64158, 64161, 64162, 64163, 64164, 64165, 64166, 64167, 64168, 64170, 64171, 64179, 64180, 64184, 64187, 64188, 64190, 64191, 64195, 64196, 64197, 64198, 64199, 64999
Local Cities That We Service
Downtown Kansas City, River Market, Crown Center, Midtown-Westport, Power and Light District, Crossroads, Country Club Plaza, South Kansas City, West Bottoms, Martin City, Tiffany Springs, Winnetonka, Pendleton Heights, Quality Hill, Hospital Hill, Washington-Wheatley, West Plaza, Gashland, Harbortown, Winnwood, Ruskin Heights, Northeast Kansas City, Sunset Hill West, Armour Hills, East Side, Manheim Park, Scarritt Renaissance, Old Westport, Plaza Area, Sherwood Estates, Coleman Highlands, Broadway Gillham, Eastwood Hills East, Briarcliff West, Coves North, Central Hyde Park, North Town Fork Creek, Bridlespur, Stratford Estates, Prairie Point-Wildberry, South Hyde Park, Wornall Homestead, Brookside Park, Barry Harbour, Oak Meyer Gardens, Blue HIlls Estates, Briarcliff-Claymont, Country Club District, Marlborough Heights, Terrace Lake Gardens
About Kansas City, MO
Kansas City sits on Missouri's western edge, straddling the border with Kansas. It's known for its barbecue, jazz heritage and fountains. Downtown, the American Jazz Museum shares a building with the Negro Leagues Baseball Museum in the historic 18th & Vine Jazz District. The Nelson-Atkins Museum of Art, with giant shuttlecocks out front, houses nearly 40,000 works of art, from ancient to contemporary collections.
Things To Do In Kansas City, MO
Discover Kansas City's famous fountains: The City of Fountains Foundation wasn't founded until 1973, but Kansas City's love affair with fountains started much earlier. A vision by city leaders in the late 1800s to create "more boulevards than Paris, more fountains than Rome" led to the first few, which were used primarily as watering holes for both residents and animals. As time went on, however, fountains were installed more as memorials or for beautification of the city and, today, KC is home to more than 200, 48 of which are open to the public.
Visit the American Jazz Museum and other world-class institutions: For a mid-size city, KC has several exceptional museums. Visit the Nelson-Atkins Museum of Art (free admission) to see the giant shuttlecock sculptures on the front lawn as well as robust Asian art, ceramic, photography, and centuries-old furniture collections, or spend the day at the National World War I Museum and Memorial, ($18 for adult nonmembers) the only American museum exclusively dedicated to remembering, interpreting, and understanding the Great War and its enduring impact. Other popular institutions include the American Jazz Museum ($10 for adults) in the 18th & Vine Historic Jazz District and the essential Negro Leagues Baseball Museum ($10 for adults), which works to preserve and celebrate the rich history of African American baseball and its impact on the social advancement of America.
Shop at Country Club Plaza: Kansas City's premier shopping center, Country Club Plaza is the place to be, whether during the holidays for the Plaza Lighting Ceremony, over the summer for a gondola ride along Brush Creek, or come fall when it hosts the Plaza Art Fair (free admission). The 15-block destination, filled with Spanish-inspired architecture, is also an appealing place to shop any time of year. Here, you'll find high-end stores like Michael Kors, Tiffany & Co., and Charlie Hustle, as well as singular boutiques and spots like Made in Kansas City, where you can pick up locally made items like hats, candles, and drinkware.
Tour Kansas City's many murals: Kansas City may be home to some of the Midwest's top museums and galleries, but much of the city's most exciting art is found on the streets. Start your tour in the 18th and Vine District to view murals that celebrate Kansas City's jazz history, then head to the corner of West 43rd Street and Westport Road to see a new painting of Ruth Bader Ginsburg. Finish at East 17th and Main Streets, where, on the side of Tom's Town Distilling, you'll find the Chiefs Kingdom Mural honoring the city's championship football team.
Explore the historic River Market area: While Kansas City's River Market neighborhood is primarily known for its weekend farmers' market, it's more than just a place to buy fruits and vegetables. After shopping for produce, plants, and locally made trinkets at City Market, browse the surrounding stores (don't miss Carollo's Italian Grocery and Deli, with its homemade sausage, fresh cheese, and olive oil stored in barrels), then take a stroll to Berkley Park and enjoy the views over the Missouri River.
Discover the Ewing and Muriel Kauffman Memorial Garden: A gift to Kansas City from pharmaceutical entrepreneur Ewing Kauffman and his wife Muriel, this two-acre garden is a gorgeous place to visit. The couple designed the garden to mimic parks throughout Europe, pairing colorful perennial beds and many unique trees with stone walls, brick walkways, fountains, and bronze sculptures by Tom Corbin.
Shop, eat, and be entertained at historic Union Station: Built in 1914, this architectural gem served as a working railway station until the 1980s, when it closed after years of neglect. In 1999, however, it reopened after a historic renovation that removed more than 10 million pounds of debris and restored the building to its original glory–all 850,000 square feet of it. Today, Union Station still serves Amtrak trains, but it also houses classic restaurants like Pierpont's and Harvey's, live entertainment at City Stage Theatre, a planetarium, a science center, and more. While visiting, be sure to also check out the massive chandeliers, 95-foot ceiling, and six-foot-wide-clock in the Grand Hall.