Eco Friendly Porta Potty Services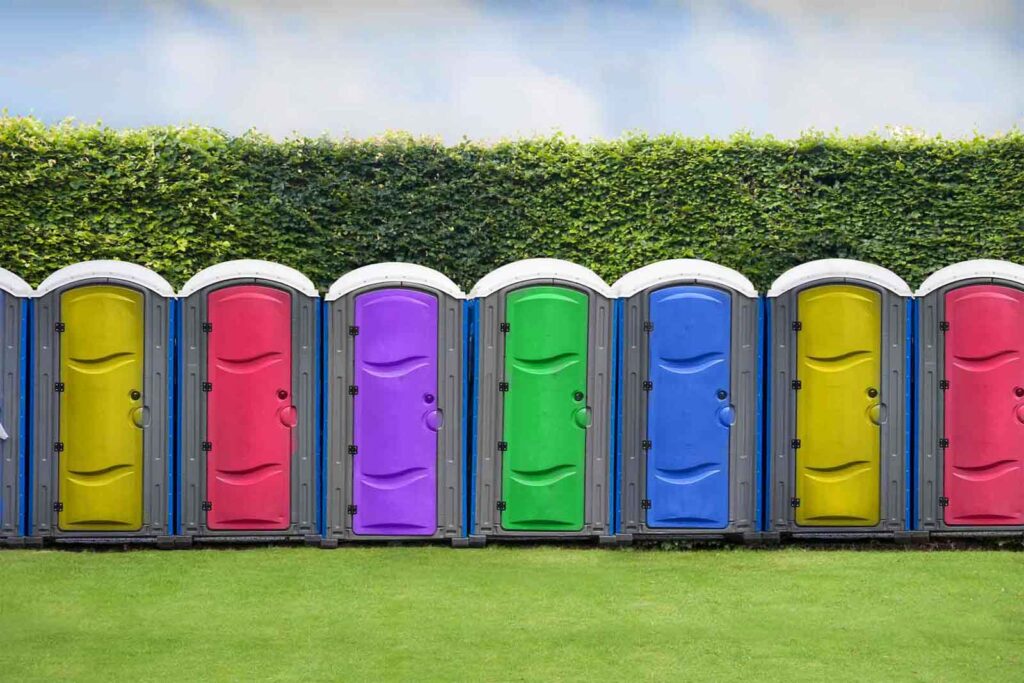 Elite Porta Potty is a professional portable toilet supplier in Memphis, TN.
We are committed to providing you with a superior level of service and value, which we achieve by giving you a choice of different options to choose from (see Our Range below).
Our company has been helping residents and businesses of Memphis for over 5 years.
We pride ourselves on the range and calibre of our restrooms.
Our portable toilets are suitable for a range of occasions, including but not limited to: construction sites, sporting events, concerts, weddings, public social gatherings, corporate events, parties and festivals.
Our porta johns are environmentally friendly and we use the latest sanitation techniques to deliver you a 5 star portable restroom.
Range Of Porta Pottys
Our selection of restroom rentals in Memphis includes:
Standard Restrooms: this is our basic model which gives you the basics. It's the most economically friendly option with no frills.
Deluxe Restrooms: this is our most popular version because it's reasonably priced but it also offers you several extras, making it suitable for large events or construction sites.
Flushing Restrooms: this special option includes a hands free flush to offer an extra level of convenience for your guests.
ADA-Compliant: this is suitable for disabled/handicapped people or for parents that are helping young children to use the restroom.
Trailer Mounted Restrooms: this option is a good choice for crews that work at a construction site or for workers that are in the field.
High Rise Restrooms: if you're working on a tall building then this is the option for you. Our units can be placed near to your workers on site.
Leave A Review
https://search.google.com/local/writereview?placeid=ChIJ13TFCuD3wokRihfsLyQAKqE
First Porta Potty Memphis
3290 New Getwell Rd #10
Memphis
TN 38118
Portable Toilet Service Areas in Memphis
Memphis Zip Codes That We Service:
38018, 38103, 38104, 38105, 38106, 38107, 38108, 38109, 38111, 38112, 38114, 38115, 38116, 38117, 38118, 38119, 38122, 38126, 38127, 38128, 38131, 38132, 38141, 38152
Local Cities That We Service
Central Gardens, Cooper-Young, Depot, Downtown (Core) , East Memphis, Frayser, Germantown (Shelby Farms), High Point Terrace, Hyde Park, Jackson, Linden, McKeller, Medical District, Mid-Second, Midtown, Mud Island, New Chicago, North Memphis, Oakhaven, Orange Mound, Pinch District, Quince, Raleigh, South Bluff, South End, South Forum, South Main Arts District, South Memphis, University District, Uptown, Victorian Village, Voillintine-Evergreen, Walnut Grove, Whitehaven
About Memphis, TN
Memphis is a city on the Mississippi River in southwest Tennessee, famous for the influential strains of blues, soul and rock 'n' roll that originated there. Elvis Presley, B.B. King and Johnny Cash recorded albums at the legendary Sun Studio, and Presley's Graceland mansion is a popular attraction. Other music landmarks include the Rock 'n' Soul Museum, Blues Hall of Fame and Stax Museum of American Soul Music.
Things To Do In Memphis, TN
Sun Studio: Sun Studio has seen so many famous musicians pass through its doors, it's hard to know where to start, but let's try! Opened in 1950 with the first rock and roll single ever (Jackie Brenston and his Delta Cats'Rocket 88, in case you were wondering) and known as "The Birthplace of Rock and Roll", Sun Studio made its awesome reputation signing artists such as Elvis Presley, Jerry Lew Lewis and Johnny Cash to name but a few. Take a tour to see fun stuff like the microphone that Elvis used when recording his first song in 1954 and much more, the tours conducted by enthusiastic, friendly and knowledgeable guides willing to take the time to chat about the musicians who have passed through the studio's legendary doors. Afterwards, drop by the 50's style Sun Studio Soda Shop and Record Store to pick up some awesome memorabilia! Kids 5-11 are free, but under 5s not permitted due to the personal nature of the tour performance.
National Civil Rights Museum – Lorraine Motel: This museum offers an amazing insight into the struggle for civil rights over five centuries, showcased with over 40 new films, oral histories, 260 artifacts, and interactive media and external listening posts that guide visitors through its history from the beginning of the resistance during slavery, the country's Civil War, the rise of Jim Crow and so much more, noting the events that shaped and inspired the future. The exhibitions include programs such as The Rise of Jim Crow, Standing Up by Sitting Down, The Year They Walked, and more, together with the opportunity to stand outside the Lorraine Motel where Martin Luther King Jr. spent his final moments. This really is a wonderful learning experience for all the family. The Museum is free to Tennessee residents on Mondays from 3pm and active military members anytime. Both require ID.
Graceland: Were you aware that Graceland was named after a relative of its original owners, the Toof family, whose name was Grace? Nor me! Elvis purchased the home and grounds in 1957 when he was just 22 (after starting his journey to fame the year earlier). The sumptuous property welcomed friends and family members over the 20 years he lived there, and now holds deep meaning for his many fans who visit from all over the world to pay homage to 'The King'. Taking a tour of this landmark will be of interest to everyone as it encompasses an unforgettable journey through time, which is guided by an iPad tour, complete with headphones, and narrated by actor John Stamos. There is also a separate tour guide for the kids. After the in depth tour there is plenty to purchase at the various gift shops, including a large selection of Elvis CD's, DVDs, t-shirts, jackets, accessories and other themed apparel.
AutoZone Park: This very family friendly ballpark was actually named the 2009 Minor League Ballpark of the Year by Baseball America for its state-of-the-art classic, neo-traditional styled facility. Home to the Memphis Redbirds and with a well maintained stadium that offers very decent seats and friendly staff, open air party deck on the third base side club level seating up to 175 fans and The Boardwalk, a family-oriented games and amusement area which includes a playground and end of match awesome firework display, you couldn't ask for more for your family day outing!
Memphis Rock 'n' Soul Museum: If you're interested in learning about the birth of rock and soul music, this is the place to go. Opened in 2000, the museum offers a vast amount of information, telling the story of the musical pioneers who overcame racial and economic barriers to create the music that is firmly with us today. The story begins from the rural fields of the 1930s, through the exciting inception of Sun, Stax, Hi Records and Memphis' musical heyday in the 70s to the current day, with a wonderful digital audio tour guide packed with over 300 minutes of information that includes over 100 songs. Go at your own pace to enjoy the seven galleries that feature 3 audio visual programs, 40 costumes, more than 30 instruments and many more musical treasures. This is a great experience for all the music lovers of the family. There is a well stocked gift shop to visit, too.
Memphis Riverboats: Want to see Memphis the authentic way, and learn a little about the history of the Mississippi in the meantime? Take the family for a slow, relaxing ride on a Paddlewheeler, that journeys up and down this famous river and where you'll be having fun at the same time. This popular sightseeing cruise lasts about 90 minutes with an amusing and informative historical commentary to go with it, the narrative telling you all about past and present Mississippi River life. As you meander down the river on the Memphis side and then back up in Arkansas waters, you'll certainly get to understand the meaning of the expression 'How to relax, Memphis fashion'.