Eco Friendly Porta Potty Services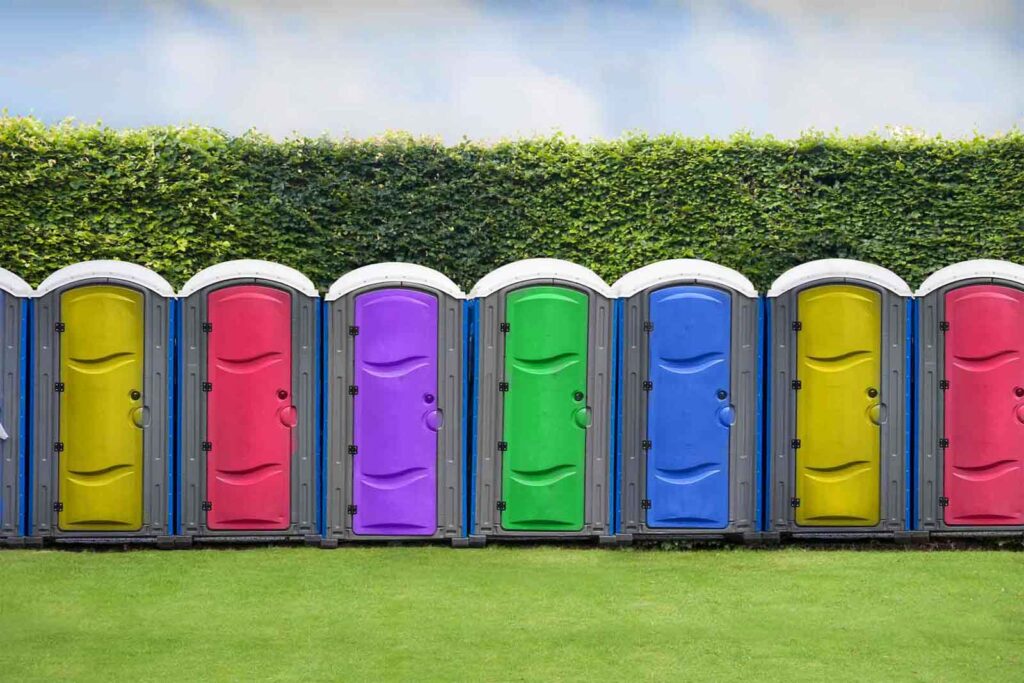 Elite Porta Potty is a professional portable toilet supplier in Oklahoma City, OK.
We are committed to providing you with a superior level of service and value, which we achieve by giving you a choice of different options to choose from (see Our Range below).
Our company has been helping residents and businesses of Oklahoma City for over 5 years.
We pride ourselves on the range and calibre of our restrooms.
Our portable toilets are suitable for a range of occasions, including but not limited to: construction sites, sporting events, concerts, weddings, public social gatherings, corporate events, parties and festivals.
Our porta johns are environmentally friendly and we use the latest sanitation techniques to deliver you a 5 star portable restroom.
Range Of Porta Pottys
Our selection of restroom rentals in Oklahoma City includes:
Standard Restrooms: this is our basic model which gives you the basics. It's the most economically friendly option with no frills.
Deluxe Restrooms: this is our most popular version because it's reasonably priced but it also offers you several extras, making it suitable for large events or construction sites.
Flushing Restrooms: this special option includes a hands free flush to offer an extra level of convenience for your guests.
ADA-Compliant: this is suitable for disabled/handicapped people or for parents that are helping young children to use the restroom.
Trailer Mounted Restrooms: this option is a good choice for crews that work at a construction site or for workers that are in the field.
High Rise Restrooms: if you're working on a tall building then this is the option for you. Our units can be placed near to your workers on site.
Leave A Review
https://g.page/r/CXsUZZAn4Me-EBA
Divine Porta Potty Oklahoma City
8201 Glade Ave #2
Oklahoma City
OK 73132
Portable Toilet Service Areas in Oklahoma City
Oklahoma City Zip Codes That We Service:
73078, 73097, 73099, 73102, 73103, 73104, 73105, 73106, 73107, 73108, 73109, 73111, 73112, 73114, 73118, 73119, 73128, 73129, 73131, 73134, 73139, 73142, 73149, 73151, 73159, 73162, 73169, 73173, 73179
Local Cities That We Service
Adventure District, Arts District, Asia District, Automobile Alley, Bricktown, Business District, Capitol Hill, Deep Deuce, Downtown, Eastside, Flatiron District, I-40 Expansion Area, Inner City Northside, Inner City Southside, Medical Community, Meridian Avenue Hospitality Corridor, Midtown District, Nichols Hills, Northwest 39 Street Enclave, Oklahoma School Of Science And Mathematics, Paseo Artists District, Presbyterian Health Foundation Research Park, Quail Springs, St. Anthony Hospital Campus, Stockyards City, Suburban Northside, Warr Acres
About Oklahoma City, OK
Oklahoma City is the capital of the U.S. state of Oklahoma. It's known for its cowboy culture and capitol complex, surrounded by working oil wells. The reflecting pool and empty glass and bronze chairs of the Oklahoma City National Memorial recall the victims of the 1995 bombing of the Alfred P. Murrah Federal Building. The Survivor Tree, an American elm nearly destroyed in the attack, is also part of the memorial.
Things To Do In Oklahoma City, OK
Oklahoma City Zoo's Sanctuary Asia: Located in the southwest section of the Oklahoma City Zoo, Sanctuary Asia extends the Asian elephant herd's existing habitat and creates new habitats for red pandas, Indian rhinos, langurs, Komodo dragons, Tanuki (raccoon dogs) and cassowary birds. The expansion also includes a two-story restaurant with a view into the elephant, rhino and Komodo dragon habitats plus a splash zone in the courtyard for children to enjoy during warmer months.
National Cowboy & Western Heritage Museum: Experience the history and artistic beauty that more than 10 million people have seen at the National Cowboy & Western Heritage Museum. Its large collection of classic and contemporary Western art, including works by Frederic Remington and Charles M. Russell, as well as sculptor James Earle Fraser's work, The End of the Trail, make this museum top-notch, and interactive galleries bring the history of the American cowboy, rodeos, Native American culture, Victorian firearms and Western performers to life.
Oklahoma City Museum of Art: The Oklahoma City Museum of Art boasts one of the most comprehensive collections of Dale Chihuly glass in the world, including the 55-foot Elenor Blake Kirkpatrick Memorial Tower in the museum's atrium. Chihuly is heralded as the most important artist working in glass since Louis Comfort Tiffany, and the museum's collection represents more than three decades of some of his finest work. Be sure to take a selfie when you're in the hall of Chihuly glass – it's the perfect backdrop.
Oklahoma Contemporary Arts Center: A world-class facility for exhibitions, performance, and education and breathtaking addition to the OKC skyline, the Oklahoma Contemporary Arts Center is a hub for artistic experiences of all kinds. Located in the heart of Automobile Alley in downtown Oklahoma City, the center provides accessible, inclusive art experience through free exhibits, events and performances year-round. The onsite cafe allows for guests to finish the gallery experience by dining outside or inside while enjoying hand-crafted cocktails and modern cuisine, inspired by Oklahoma.
Stockyards City: Home to a number of shops specializing in all things western, you can outfit an entire ranch (cattle included) or just find a new pair of boots and enjoy a great steak in Stockyards City. It's home to the Oklahoma National Stockyards, the world's largest feeder and stocker cattle market, where live cattle auctions take place every Monday and Tuesday and are open to the public.