Eco Friendly Porta Potty Services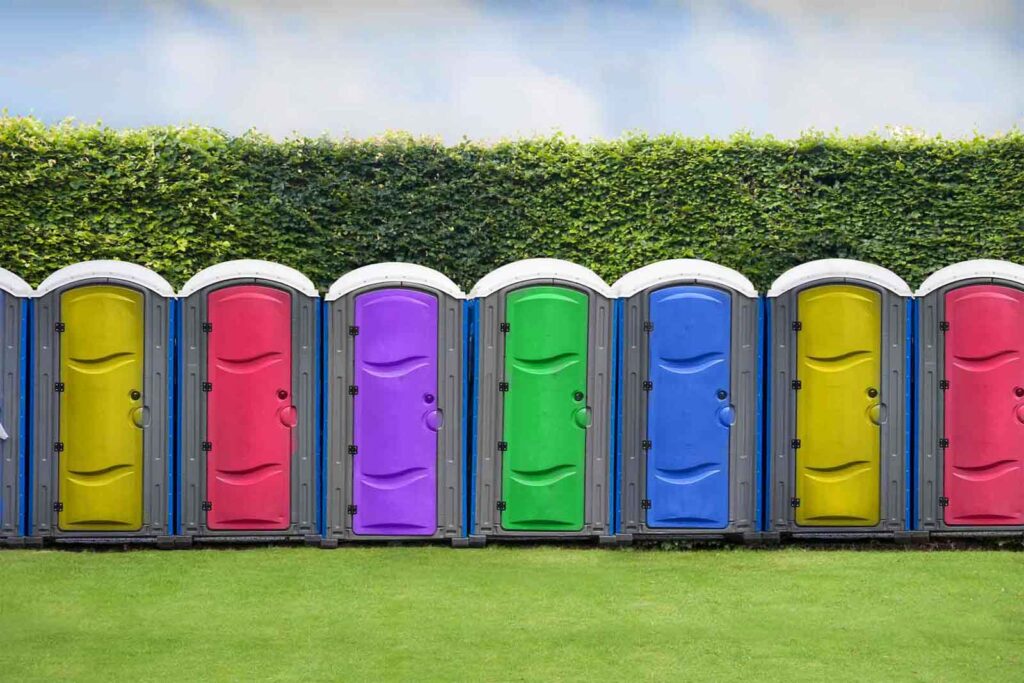 Elite Porta Potty is a professional portable toilet supplier in San Diego, CA.
We are committed to providing you with a superior level of service and value, which we achieve by giving you a choice of different options to choose from (see Our Range below).
Our company has been helping residents and businesses of San Diego for over 5 years.
We pride ourselves on the range and calibre of our restrooms.
Our portable toilets are suitable for a range of occasions, including but not limited to: construction sites, sporting events, concerts, weddings, public social gatherings, corporate events, parties and festivals.
Our porta johns are environmentally friendly and we use the latest sanitation techniques to deliver you a 5 star portable restroom.
Range Of Porta Pottys
Our selection of restroom rentals in San Diego includes:
Standard Restrooms: this is our basic model which gives you the basics. It's the most economically friendly option with no frills.
Deluxe Restrooms: this is our most popular version because it's reasonably priced but it also offers you several extras, making it suitable for large events or construction sites.
Flushing Restrooms: this special option includes a hands free flush to offer an extra level of convenience for your guests.
ADA-Compliant: this is suitable for disabled/handicapped people or for parents that are helping young children to use the restroom.
Trailer Mounted Restrooms: this option is a good choice for crews that work at a construction site or for workers that are in the field.
High Rise Restrooms: if you're working on a tall building then this is the option for you. Our units can be placed near to your workers on site.
Leave A Review
https://g.page/r/CS7r73CuHcVEEBA
Deluxe Porta Potty San Diego
2990 National Ave, #1
San Diego
CA 92113
Portable Toilet Service Areas in San Diego
San Diego Zip Codes That We Service:
91911, 91914, 91915, 91932, 91942, 91945, 91950, 92014, 92025, 92027, 92029, 92037, 92064, 92065, 92067, 92071, 92075, 92101, 92102, 92103, 92104, 92105, 92106, 92107, 92108, 92109, 92110, 92111, 92113, 92114, 92115, 92116, 92117, 92118, 92119, 92120, 92121, 92122, 92123, 92124, 92126, 92127, 92128, 92129, 92130, 92131, 92132, 92134, 92135, 92139, 92140, 92145, 92147, 92154, 92173
Local Cities That We Service
Coronado, National City, Lincoln Acres, Chula Vista, Lemon Grove
About San Diego, CA
San Diego is a city on the Pacific coast of California known for its beaches, parks and warm climate. Immense Balboa Park is the site of the renowned San Diego Zoo, as well as numerous art galleries, artist studios, museums and gardens. A deep harbor is home to a large active naval fleet, with the USS Midway, an aircraft-carrier-turned-museum, open to the public.
Things To Do In San Diego, CA
Balboa Park: It won't cost a penny to spend the afternoon strolling around San Diego's famous Balboa Park, which encompasses 1,200 acres. While entrance to the park is free, most of the attractions within the park—including the acclaimed San Diego Zoo—do have fees. An exception is the Timken Museum of Art, where you can admire French tapestries, Russian icons and paintings by various European artists, including Rembrandt. It's free to explore Balboa Park's themed gardens, which include the Alcazar Garden (inspired by the royal gardens of Seville), the Japanese Friendship Garden and the Australian Garden. See more plants—orchids, ferns and seasonal species—in the oft-photographed Botanical Building, constructed for the 1915-1916 Panama-California Exposition.
Old Town San Diego State Historic Park: Revisit a bygone era at Old Town San Diego State Historic Park, where the Mexican and early American periods of the city's history are palpable. This free site features an assemblage of buildings-turned-museums, including reconstructions as well as authentic abodes from the 19th century. The latter includes La Casa de Estudillo, a home on the National Register of Historic Places that belonged to an affluent local family. It won't cost you anything to explore the site, on your own or on one of the daily guided tours, though you may be tempted to reach for your wallet at the sight of the old-fashioned candy or traditional Mexican pottery in the shops. Restaurants on site serve Mexican fare should you get hungry.
Beaches: San Diego's 30 diverse beaches—70 miles of coastline in all—are free to the public, and you can expect a different experience at each one. Devote a day to snorkeling in the clear waters of La Jolla Cove, where you may catch a glimpse of the garibaldi, California's colorful state fish. Spend the following day observing the resident sea lions at the seawall-protected beach known as Children's Pool. Head to Pacific Beach to surf, or let your pooch frolic in the sand at Ocean Beach, which is also great for exploring tide pools.
Mission Bay Park: You'll find 19 more miles of sandy beach at San Diego's Mission Bay Park, a carnival-like recreational area reminiscent of New York's Coney Island. The 4,600-acre park is roughly equal parts land and water, and there are no fees to surf, bike, walk along the boardwalk or build a bonfire by the ocean. Mission Bay is also home to Belmont Park, an amusement park where admission and parking are free; you only pay for your rides. Don't pass up the thrilling Giant Big Dipper, a wooden roller coaster circa 1925 that has earned a spot on the National Register of Historic Places.
Mount Soledad: A clear day in San Diego is the perfect excuse to drive to the top of 823-foot Mount Soledad, a prominent landmark in the neighborhood of La Jolla. You may opt to bike up instead, but be prepared for a challenge; the ride is ranked as moderate to difficult, regardless of the route you take. Once you've made it to the peak, the reward is the same: 360-degrees of breathtaking view. The vistas encompass the Pacific Ocean and downtown San Diego, and extend as far as the mountains of neighboring Mexico. Linger until sundown to witness a spectacular sunset. Atop the mountain, you'll also encounter a 29-foot cross—a memorial to the country's veterans.
Pier Fishing: Whether you're a seasoned angler or looking forward to casting your line for the first time, you'll be happy to know that no license is required to fish from any of the seven municipal piers in San Diego that allow the sport. As long as you own a fishing pole, you can try your hand at angling without spending a dime. If you wish to purchase supplies, choose piers that offer bait and tackle shops, such as Ocean Beach Pier, the West Coast's longest pier, which is also considered the longest concrete pier in the world. The fish you might catch in San Diego's inland waters include bass, barracuda and halibut.