Eco Friendly Porta Potty Services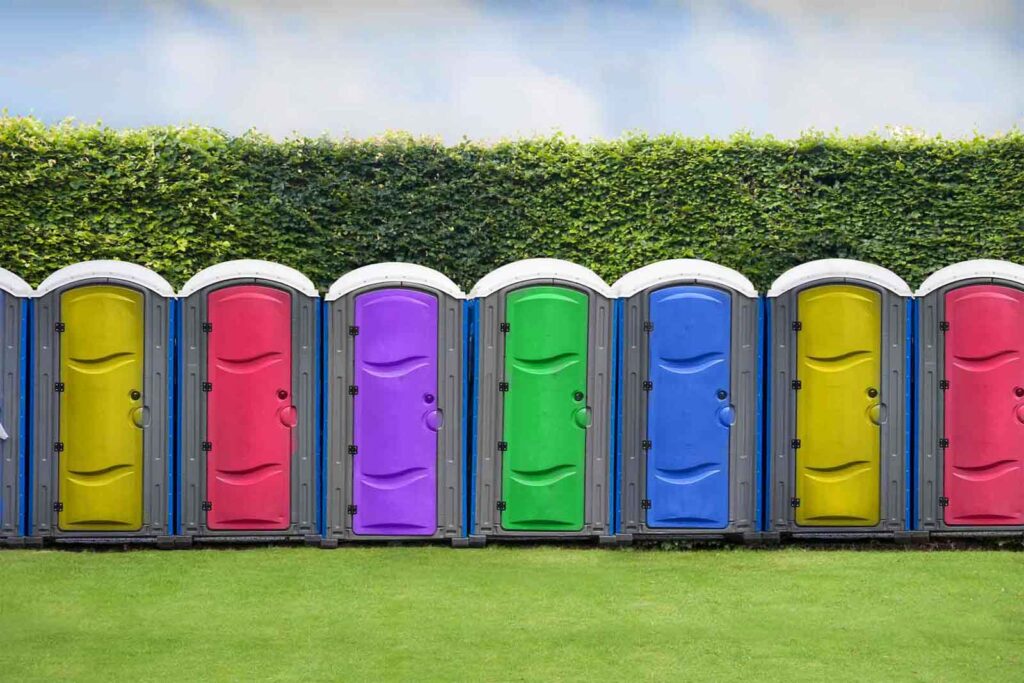 Elite Porta Potty is a professional portable toilet supplier in San Francisco, CA.
We are committed to providing you with a superior level of service and value, which we achieve by giving you a choice of different options to choose from (see Our Range below).
Our company has been helping residents and businesses of San Francisco for over 5 years.
We pride ourselves on the range and calibre of our restrooms.
Our portable toilets are suitable for a range of occasions, including but not limited to: construction sites, sporting events, concerts, weddings, public social gatherings, corporate events, parties and festivals.
Our porta johns are environmentally friendly and we use the latest sanitation techniques to deliver you a 5 star portable restroom.
Range Of Porta Pottys
Our selection of restroom rentals in San Francisco includes:
Standard Restrooms: this is our basic model which gives you the basics. It's the most economically friendly option with no frills.
Deluxe Restrooms: this is our most popular version because it's reasonably priced but it also offers you several extras, making it suitable for large events or construction sites.
Flushing Restrooms: this special option includes a hands free flush to offer an extra level of convenience for your guests.
ADA-Compliant: this is suitable for disabled/handicapped people or for parents that are helping young children to use the restroom.
Trailer Mounted Restrooms: this option is a good choice for crews that work at a construction site or for workers that are in the field.
High Rise Restrooms: if you're working on a tall building then this is the option for you. Our units can be placed near to your workers on site.
Leave A Review
https://g.page/r/CS2X77ND1P4jEBA
Premier Porta Potty San Francisco
508 4th St #2
San Francisco
CA 94107
Portable Toilet Service Areas in San Francisco
San Francisco Zip Codes That We Service:
94102, 94103, 94104, 94105, 94107, 94108, 94109, 94110, 94111, 94112, 94114, 94115, 94116, 94117, 94118, 94121, 94122, 94123, 94124, 94127, 94129, 94130, 94131, 94132, 94133, 94134, 94158
Local Cities That We Service
Fisherman's Wharf, North Beach, Chinatown, Embarcadero / Financial District, Union Square, Central Market, SOMA / Yerba Buena, Castro / Noe Valley, Civic Center / Hayes Valley, Haight-Ashbury, Fillmore, Japantown, Nob Hill, Marina / Pacific Heights, Presidio/Richmond, Sunset, Bayview, Treasure Island, Mission District, Beyond SF
About San Francisco, CA
San Francisco, officially the City and County of San Francisco, is the commercial, financial, and cultural center of Northern California. The city proper is the fourth most populous in California and 17th most populous in the United States, with 815,201 residents as of 2021.
Things To Do In San Francisco, CA
Ride the Golden Gate Bridge: This is one of the best things to do in San Francisco. There are bike rental places almost everywhere you go in SF, and it is not that expensive for the day. Prices vary depending on where you go. Alternatively, you can join a guided tour. As you ride over the bridge you will get a perfect feel for the sheer size of it, which to me was mind-blowing and extremely hard to capture. Once you actually get over the bridge, if you take a hard right at the end you will ride to the bottom of a steep hill, which will give you another perspective of just how massive it actually is, and another opportunity for some nice photos.
Walk Through Golden Gate Park: Golden Gate Park is an enormously long park that runs almost halfway across the SF Peninsula. If you start at the east end you will also be very close to the popular Haight-Ashbury region, which is also worth a look. Also located at the very eastern end of the park, on Thursdays is a big range of different food trucks where you can try some amazing food. There are a hundred different tracks you can take through the park, and it is completely up to you which way you want to go, but I normally stick to the south side as you will eventually walk into the botanical gardens, which are really beautiful! As you continue towards the ocean you will actually come across buffalo that have a massive enclosure, and it is kind of weird to see something like that in the middle of a city. If you do decide to walk the whole way, you will come out at the west end close to an old school windmill and then across the road you have Ocean Beach, which brings me to my next point.
Take a Walk Down Ocean Beach: Ocean Beach is a beautiful beach located to the southwest side of the Golden Gate Bridge. This area tends to be a little neglected by tourism, and you can find yourself alone on the beach quite easily. There are a host of cute cafes and beautiful little beach cottages just back from the beach on the other side of the road. Be careful swimming though if you decide to because the water can be a little dangerous. If you have done all this walking in one day you are probably a little tired, so a few blocks south of the park on Judah St there is a tram line that will take you all the way back into the city. The trams are also a very typical fun thing to do once or twice whilst in San Francisco.
A Day Tour of Alcatraz: This is your typical tourist thing to do in San Francisco and you will be with a bunch of other tourists, but it is also a very interesting piece of history and not something I can ever imagine someone being disappointed after doing. Walking through the cells and thinking about the people and the history that has amassed over the years was amazing to me. I got totally lost in my mind picturing what it was like to be imprisoned there.
Visit Marin County: Marin is San Francisco's warmer, sunnier cousin located on the other side of the Golden Gate Bridge. It is easily accessible if you ride over the bridge or by ferry from the Financial District to Sausalito. You also have the option of taking your bike on the ferry back to get the best of both worlds. Marin Headlands would be my suggestion here, it runs along the southern coast and is a big, hilly park area that gives amazing views of the Bay Area and the Golden Gate Bridge.
Muir Woods: If nature is your thing then Muir Woods is also a must-see. It is an ancient redwood forest located a short drive outside of San Francisco, over the Golden Gate Bridge and a little bit past Sausalito. Once you enter the park you are completely surrounded by giant redwoods, which by sheer size are jaw-dropping. It is hard not to question your own existence thinking about the age of these giants.
Eat Your Way Through San Francisco: No matter what your taste you are sure to find it in San Francisco. From raw vegan restaurants to BBQ ribs and beer, you will find whatever you want and almost all of it is done extremely well! San Fran, alongside New York City, is one of the few places I allow myself to eat out twice a day just because the range, quality and price of the food is so amazing! I have already mentioned the food trucks, but they are also worth a look if you are not familiar with them!