Eco Friendly Porta Potty Services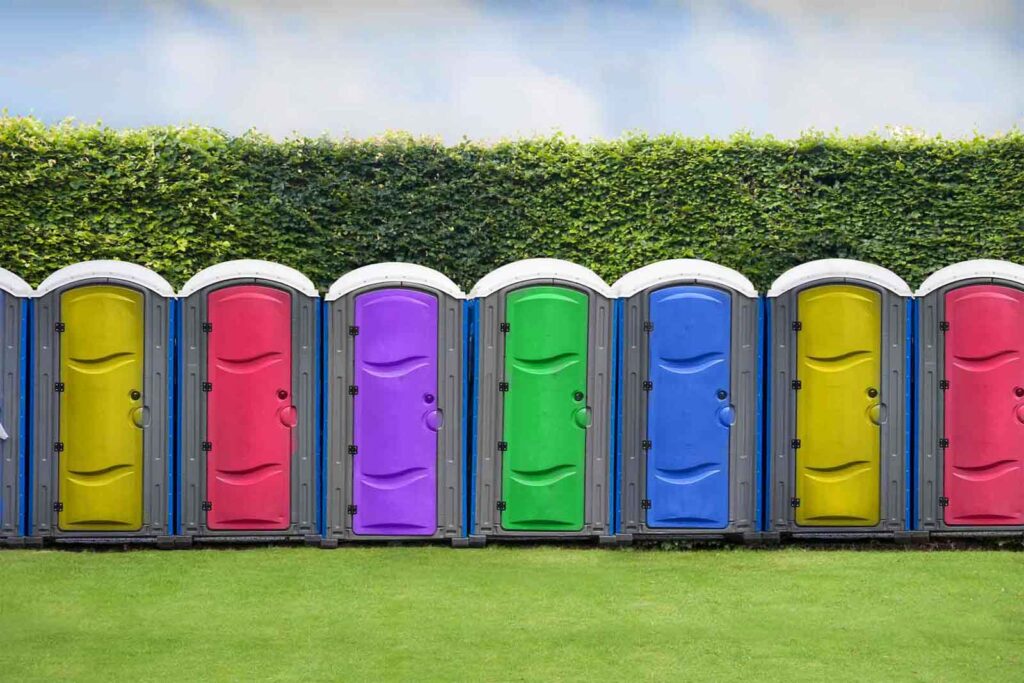 Elite Porta Potty is a professional portable toilet supplier in San Jose, CA.
We are committed to providing you with a superior level of service and value, which we achieve by giving you a choice of different options to choose from (see Our Range below).
Our company has been helping residents and businesses of San Jose for over 5 years.
We pride ourselves on the range and calibre of our restrooms.
Our portable toilets are suitable for a range of occasions, including but not limited to: construction sites, sporting events, concerts, weddings, public social gatherings, corporate events, parties and festivals.
Our porta johns are environmentally friendly and we use the latest sanitation techniques to deliver you a 5 star portable restroom.
Range Of Porta Pottys
Our selection of restroom rentals in San Jose includes:
Standard Restrooms: this is our basic model which gives you the basics. It's the most economically friendly option with no frills.
Deluxe Restrooms: this is our most popular version because it's reasonably priced but it also offers you several extras, making it suitable for large events or construction sites.
Flushing Restrooms: this special option includes a hands free flush to offer an extra level of convenience for your guests.
ADA-Compliant: this is suitable for disabled/handicapped people or for parents that are helping young children to use the restroom.
Trailer Mounted Restrooms: this option is a good choice for crews that work at a construction site or for workers that are in the field.
High Rise Restrooms: if you're working on a tall building then this is the option for you. Our units can be placed near to your workers on site.
Leave A Review
https://g.page/r/CW_2cFLZYVuBEBA
Premier Porta Potty San Jose
41 S First St, #2
San Jose
CA 95113
Portable Toilet Service Areas in San Jose
San Jose Zip Codes That We Service:
94089, 95002, 95008, 95013, 95014, 95032, 95035, 95037, 95050, 95054, 95070, 95110, 95111, 95112, 95113, 95116, 95117, 95118, 95119, 95120, 95121, 95122, 95123, 95124, 95125, 95126, 95127, 95128, 95129, 95130, 95131, 95132, 95133, 95134, 95135, 95136, 95138, 95139, 95140, 95148
Local Cities That We Service
West San Jose, Alviso, North San Jose/Berryessa, Alum Rock, East San Jose, Evergreen, South San Jose/Edenvale, Blossom Valley, Almaden Valley, Cambrian Park, Willow Glen, Central San Jose
About San Jose, CA
San Jose is a large city surrounded by rolling hills in Silicon Valley, a major technology hub in California's Bay Area. Architectural landmarks, from the 1883 Italianate-style Oddfellows building to Spanish Colonial Revival structures, make up the downtown historic district. The downtown area is also home to the Tech Museum of Innovation, devoted to the exploration of science and technology.
Things To Do In San Jose, CA
San Jose Municipal Rose Garden: Voted America's number one rose garden, this is a great destination if you are on a tight budget, but still want to have an awesome outing. The Rose Garden is a gorgeous spot for a lazy afternoon strolling through the sprawling grounds or lounging on the grass and enjoying the sun. Pack some finger foods, suntan lotion and a picnic blanket.
San Pedro Square Market: If you're looking to feed your inner foodie, grab a bite to eat at this historic food court in downtown San Jose. The sheer volume of people and open-air atmosphere at the San Pedro Square Market will keep things casual, while also giving you an excuse to splurge on some excellent gourmet food. Make sure to check out Spuds Potato Bar to enjoy a soft baked-potato, as well as Treatbot for specialty desserts like horchata and ube ice cream.
Sharks Ice at San Jose: So maybe you're a die-hard Sharks fan. This is the perfect excuse to plan an outing to Sharks Ice in San Jose, where you can simultaneously gush about your obsession with the San Jose Sharks while ice-skating where they practice. Whether you're pro-skaters or novices, the day will be well spent navigating the slippery ice.
Camera 12 Cinemas: For a more traditional route, dinner and a movie never fails to disappoint. If there's a film you've been meaning to see, head over to Camera 12. Located in the heart of downtown San Jose, this movie theater not only offers student discounts, but also occasionally shows limited release movies. Negotiate a dinner location before indulging in some tasteful cinema.
Almaden Quicksilver County Park: Spend an afternoon working up a sweat while hiking though the Quicksilver trails. Featuring gorgeous and scenic routes that are not too physically strenuous, this is a great option that's budget friendly and lets you enjoy the great outdoors. Bring a couple bottles of water and lace up your hiking boots before hitting the trails.
The Tech Museum of Innovation: Bond over your collective geeky tendencies and spend a day at the Tech Museum. In addition to wandering through the regular exhibitions of Body Metrics and The Tech Exploration Gallery, you can also visit the IMAX Theater and watch educational films on humpback whales and World War II. Double check the events calendar for upcoming special events at the museum.
Downtown Campbell: Another popular nightlife spot in San Jose is Downtown Campbell, where the sidewalks are packed with energetic crowds and rambunctious music from bands can be heard from blocks away. Weave through the crowds, making sure to hit up some of the popular destinations in downtown Campbell. The Recycle Bookstore is a great place to browse through some unique books, while Rocket Fizz offers some unique candy selections.
ComedySportz: Located just a couple of blocks from The Tech Museum, ComedySportz is a leading improvisation comedy show located in downtown San Jose. The two-hour long shows are highly interactive and sometimes even invite audience members to participate on stage. Start with dinner downtown before attending a show for an unforgettably hilarious night.
San Jose Japantown Farmers' Market: From 8:30 a.m. to noon, San Jose Japantown is home to a year-round farmers' market that boasts fresh produce and delicious goods that support local vendors. Arrive early to enjoy the morning and peruse the booths for fresh daikon, chard potatoes, bok choy and even egg rolls. Bring a reusable bag to store the goodies you collect.
Petroglyph: If the weekend has a rainy weather forecast, plan for a day holed up inside with some arts and crafts. Located both in the Los Gatos and Willow Glen neighborhoods, Petroglyph allows visitors to pick a ceramic item to paint and create a unique craft. Let your creative juices flow with a plethora of paintbrushes and a rainbow of paint colors to choose from.