Eco Friendly Porta Potty Services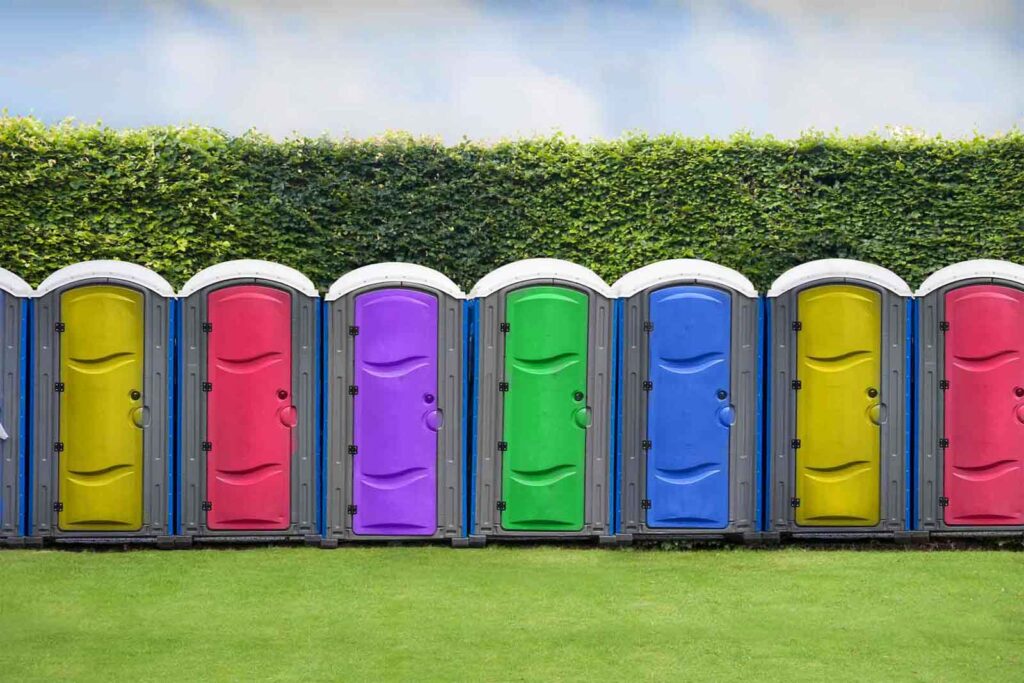 Elite Porta Potty is a professional portable toilet supplier in St. Louis, MO.
We are committed to providing you with a superior level of service and value, which we achieve by giving you a choice of different options to choose from (see Our Range below).
Our company has been helping residents and businesses of St. Louis for over 5 years.
We pride ourselves on the range and calibre of our restrooms.
Our portable toilets are suitable for a range of occasions, including but not limited to: construction sites, sporting events, concerts, weddings, public social gatherings, corporate events, parties and festivals.
Our porta johns are environmentally friendly and we use the latest sanitation techniques to deliver you a 5 star portable restroom.
Range Of Porta Pottys
Our selection of restroom rentals in St. Louis includes:
Standard Restrooms: this is our basic model which gives you the basics. It's the most economically friendly option with no frills.
Deluxe Restrooms: this is our most popular version because it's reasonably priced but it also offers you several extras, making it suitable for large events or construction sites.
Flushing Restrooms: this special option includes a hands free flush to offer an extra level of convenience for your guests.
ADA-Compliant: this is suitable for disabled/handicapped people or for parents that are helping young children to use the restroom.
Trailer Mounted Restrooms: this option is a good choice for crews that work at a construction site or for workers that are in the field.
High Rise Restrooms: if you're working on a tall building then this is the option for you. Our units can be placed near to your workers on site.
Leave A Review
https://search.google.com/local/writereview?placeid=ChIJ13TFCuD3wokRihfsLyQAKqE
Divine Porta Potty New York
1131 N Warson Rd #2
St. Louis
MO 63132
Portable Toilet Service Areas in St. Louis
St. Louis Zip Codes That We Service:
63101, 63102, 63103, 63104, 63106, 63107, 63108, 63109, 63110, 63111, 63112, 63113, 63115, 63116, 63118, 63139, 63147, 63155
Local Cities That We Service
Addington, Bobring, Capitol Hill Subdivision, Clear Skies, Creve Coeur IND, Dongs, Fountainhead, Hilltop, Kirkwood, Lilac Ridge, Lulu Heights, Marshall Ave, Monas Eye, Oakville, Plaza In Clayton, Price, Sherwood Meadows, Spanish Lake, Thelma, Union, Valhalla Rock Road, Vicinity, Vinta Park, Webster Groves, West Village – Summit Lofts, Ridgetop Manor, Riverview, Rose Garden
About St. Louis, MO
St. Louis is a major city in Missouri along the Mississippi River. Its iconic, 630-ft. Gateway Arch, built in the 1960s, honors the early 19th-century explorations of Lewis and Clark and America's westward expansion in general. Replica paddlewheelers ply the river, offering views of the arch. The Soulard district is home to barbecue restaurants and clubs playing blues music.
Things To Do In St. Louis, MO
Be Adventurous With Big Muddy Adventures: Join Big Muddy Adventures for their famous full moon floats on the Mighty Mississippi River, each month from March through November. After a short, guided paddle in one of their signature voyageur canoes across the river, you will arrive on a beautiful uninhabited river island just in time for sunset and the "magic hour." While you explore the sand beach and island, a gourmet meal is prepared by a local chef for all to enjoy around a fire while you wait for the full moon to rise. After enjoying some food and stargazing, you'll paddle back under the moonlight. Swoon!
See the Sites at the Arch: After a recent $350 million renovation to the grounds and museum, visiting the Gateway Arch has become a lot more … well, fun! Part of the Gateway Arch National Park (formerly the Jefferson National Expansion Memorial), this St. Louis landmark is the world's tallest arch and the tallest man-made monument in the Western Hemisphere. On a clear day, visitors can see almost 30 miles in each direction from the top. It's the perfect spot for a St. Louis selfie! A tram system in each leg of the Arch delivers visitors to the top of the 630-foot-tall structure for stunning views of the city. Admission to the Museum at the Gateway Arch is free. If you want to go to the top of the arch, reserve your space and pay online.
Explore City Museum: My heart skipped a beat when we walked into this museum, and I'll tell you why. City Museum has secret caves and passageways, a small circus and an architectural museum, not to mention a museum of oddities and recycled things. The museum is a recycler's paradise with many of the exhibits created from products that were made for other purposes. It's a wacky place where a school bus hangs off the roof and airplane parts appear to fly over the parking lot in the playground called MonstroCity. City Museum's rooftop features a Ferris wheel, slides (including a three-story slide on top of a 10-story building) and fountains. It's a great place to bring the whole family and channel your inner child.
Visit Forest Park: Considered "The Heart of St. Louis," Forest Park opened in 1876 and is rich with history, hosting both the Summer Olympics and The Louisiana Purchase Exposition in 1904. The 1,300-acre park is located in the center of the St. Louis metropolitan area close to many of its major attractions. Some free activities include the zoo, art museum, science center, history museum and America's oldest and largest outdoor music theater called The Muny. The newly refurbished Boathouse (pictured) is a great place to sip a cold drink, people watch or rent a boat or canoe for a small fee.
Catch a Ballgame: Take me out to the ballgame and Ballpark Village! This new dining and entertainment district is located next to Busch Stadium, home of the St. Louis Cardinals. With 11 World Series Championships, 19 National League pennants and 13 division titles, the Cardinals are one of the most successful baseball franchises in history. Check out Ballpark Village before or after the game and experience the excitement of being a Cardinals fan in St. Louis. You'll be surrounded by a sea of red and, like us, you might be inspired to catch the game and cheer on the team. The views inside the park of the city skyline and The Arch are a home run!